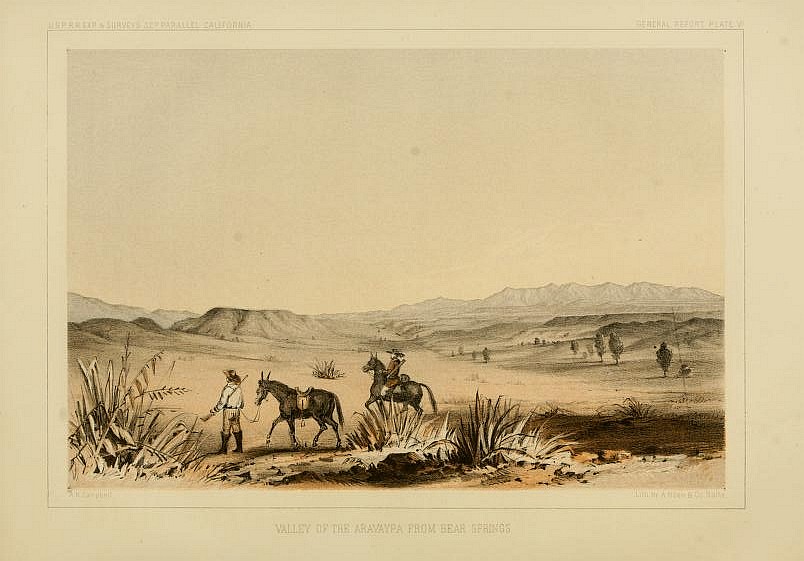 If you're missing a narrative, you're not alone. Kevin Starr noticed our lack of explanation in 1975, in a monograph on early voyages he kindly reviewed. Many of its arcane sources — like Hakluyt's Voyages, once closely circulated in special collections — now float freely in the electronic ether. We scroll the diaries of piratical explorers online in our kitchen. As much as we appreciate Kevin's remarkable body of work and its informed tradition, we're glad we kept collating first-person accounts of the Far West. Primary data are a window to events, and can be confirmed or tempered by other sound witnesses and records.
Nicholson Baker describes how historic data are photographed, access to the new microforms or facsimile files is maintained, and sources are conserved in Double Fold: Libraries and the Assault on Paper (New York: Random House, 2000). Some libraries 'de-accession' historic volumes after photographing them, or anytime they have unneeded copies. ('De-accession', like its equally inbred cousin 'deselect', is library school doublethink, Newspeak for 'discard'.) Many libraries offer their discards to other libraries, non-profit organizations, and private parties before sending them to pulp mills for recycling. But brokers rescue some volumes and list them in digital stores through portals like BookFinder.com. We recently found a handsomely rebound surplus set of Bartlett (1854) from the Boston Public Library, through such an independent bookseller. The more source materials in circulation — whether privately-held hard copies or public electronic facsimiles — the easier it is to reconstruct events and test explanations.
Recently, the New York Times published a proudly racist essay on history — one most college professors would have returned to any undergrad for lack of rigor and extreme bias. Sadly, the public perception of history gets routinely hijacked in this way by postmodern ideologues and pop culture. (The newspaper has since moved on to explain cannibalism.) But history gets the last laugh. At its root, it's simply a sequence of events; there is no 'right side' to a sequence of events. People live in the midst of it, acting in their family's interest and reacting ad hoc to discursive events — mostly in gray hats. Simple cognition debunked McCarthy's self-abuse seventy years ago, and it works just fine on postmodern exhibitionism. Critical thinking still sorts evidence from agitprop and scholarship from propaganda.
Save data. Our descendants will need it.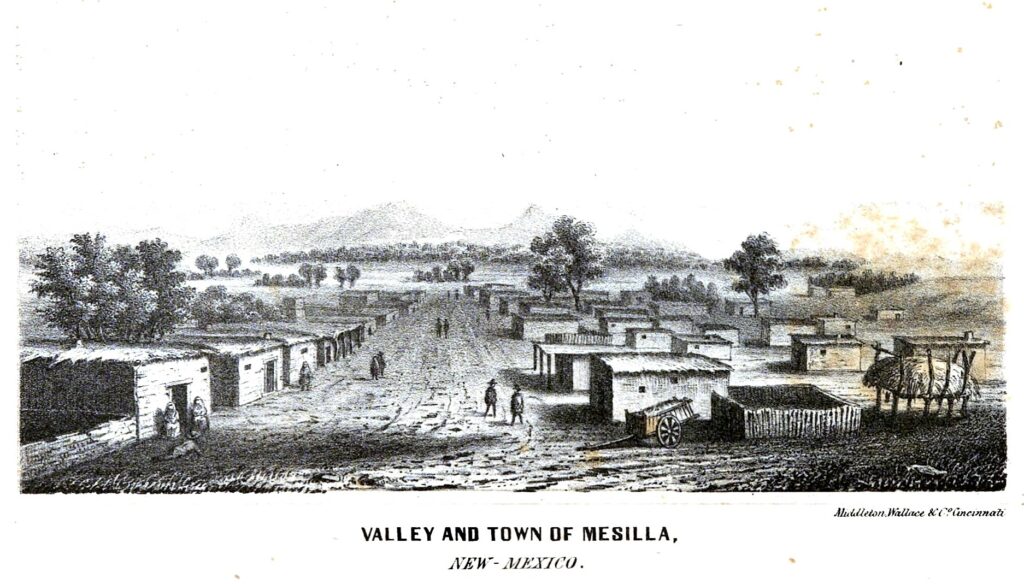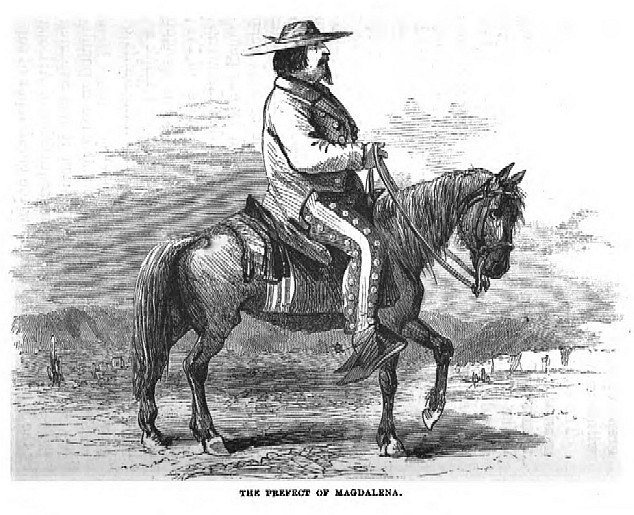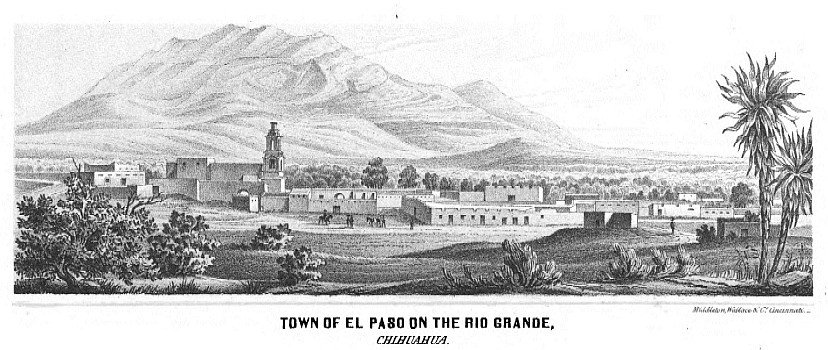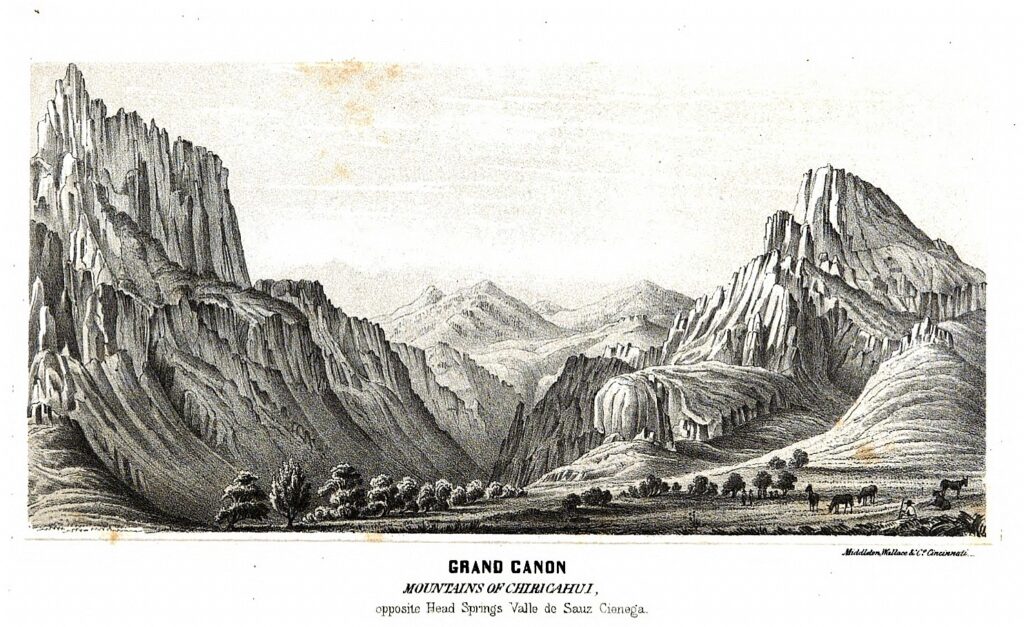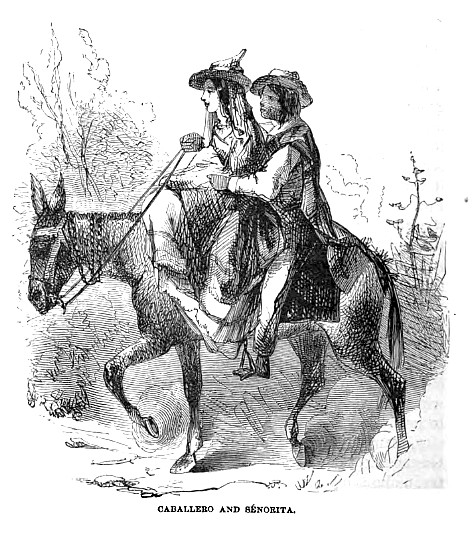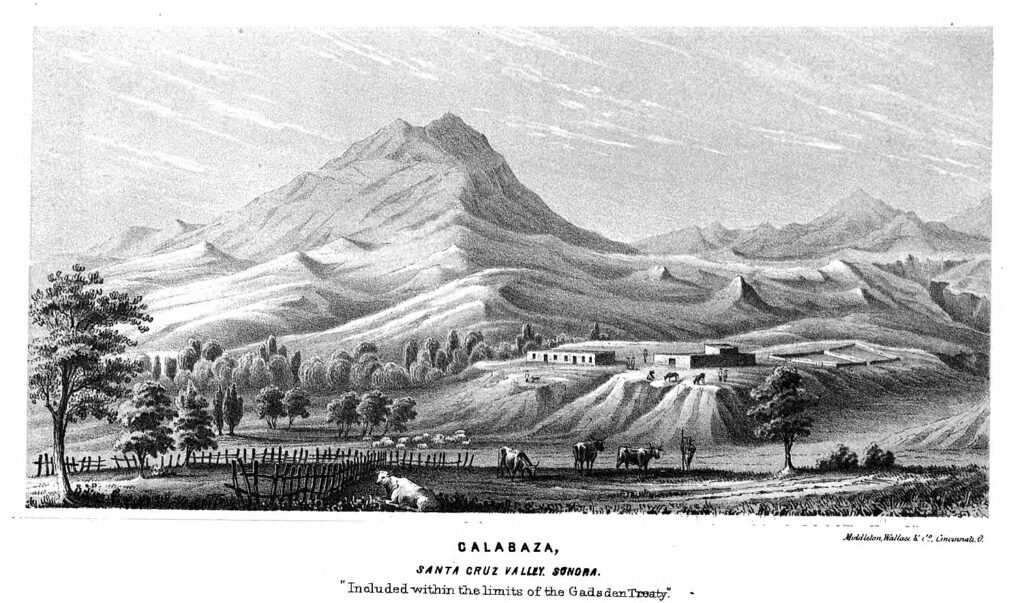 We came across Biodiversity Heritage Library's great portal to dozens of railroad survey links while looking for a particular essay: https://www.biodiversitylibrary.org/bibliography/11139 (also listed on the 'electronic links to resources' page). The site helps readers locate information in the maze of reports and other data in the eclectic series on the American West, which was published between 1855 and 1860, and saves hours to months of tedious work. We found our report in Parke, for example, and as is often the case, the search delivered unexpected rewards.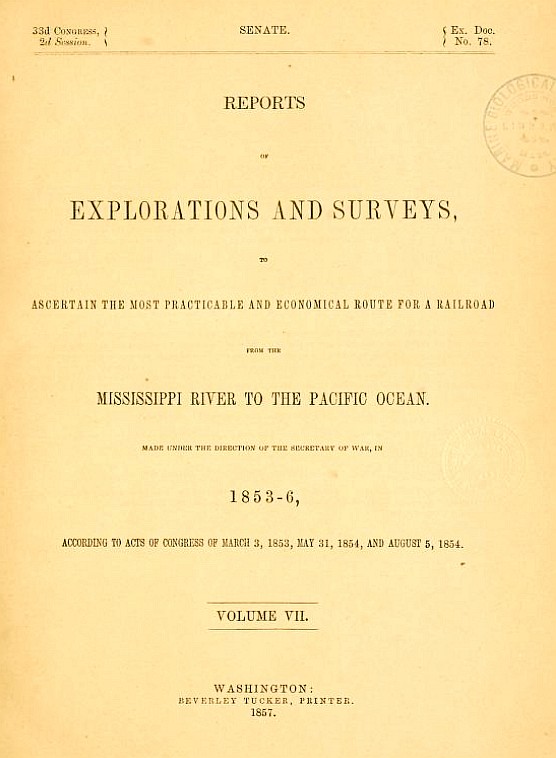 Parke, John G. Reports of Explorations and Surveys to Ascertain the Most Practicable and Economical Route for a Railroad from the Mississippi River to the Pacific Ocean, 1853-6, Vol. 7. (Washington: Beverley Tucker, Printer, 1857).
Parke posts a translation of a 1777 report and plea from Tubac's Manuel Barragua to Captain Pedro Allande Savedra in Tucson, as Appendix C in Volume 7. Barragua writes that New Spain's colonists farther up the Santa Cruz became so desperate after the reassignment of their garrison to Tucson, they burned Calabasas to thwart raiders.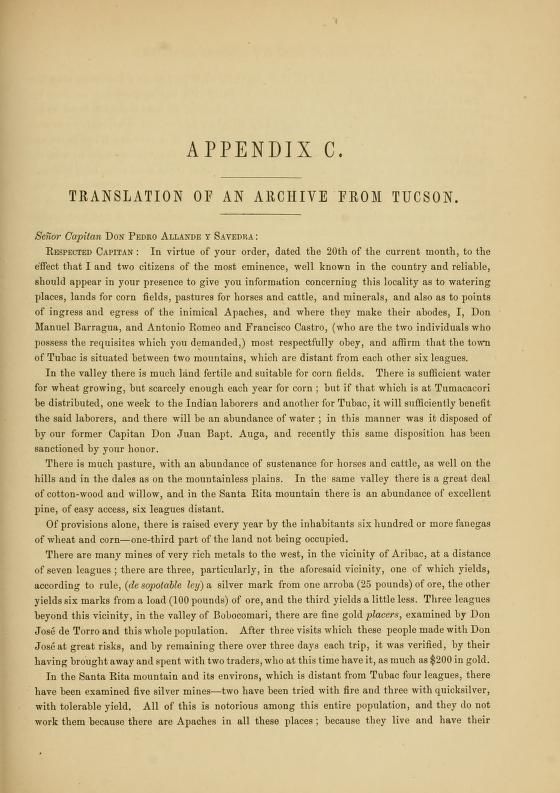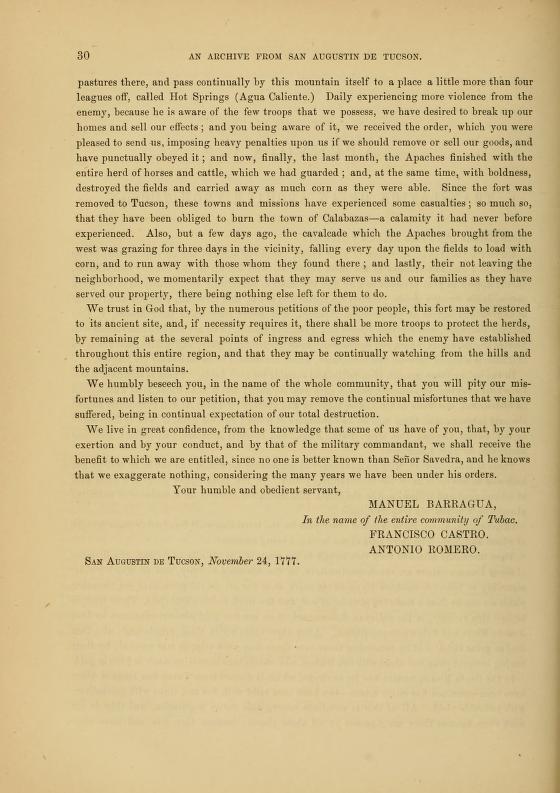 We found the essay we were looking for, "From the Pima Villages on the Gila to the Rio Grande, Near the 32d Parallel of North Latitude," as Part I, No. 2 of Volume 7. In addition to text, it holds lithographs adapted from field sketches made by Alfred H. Campbell in 1854 as he trekked up the Gila to the San Pedro River with a mule train, then down the San Pedro to rejoin Parke on the wagon road. They are in pages 19-35.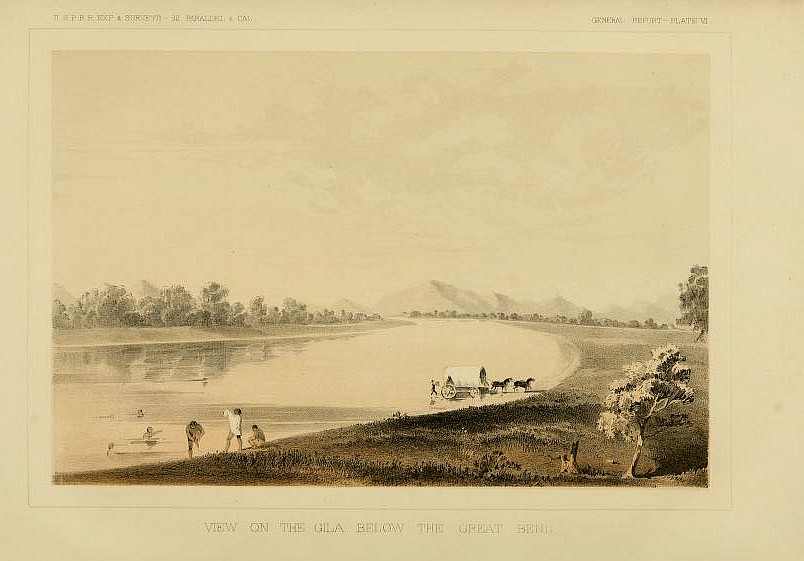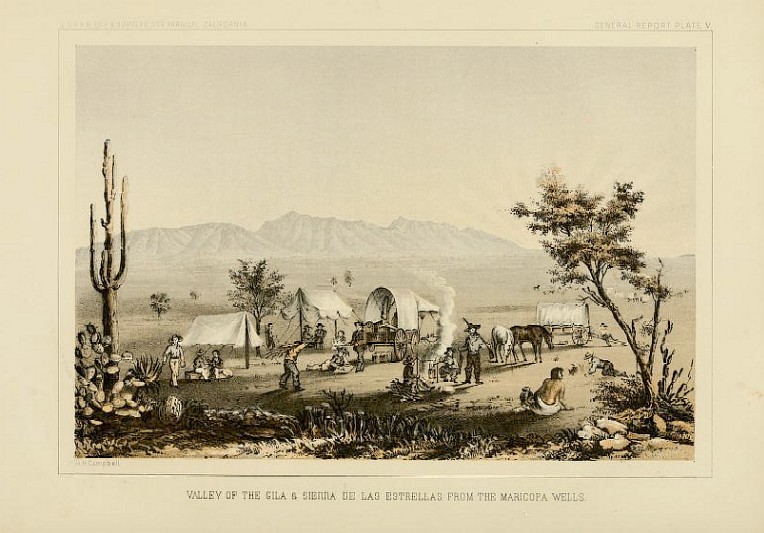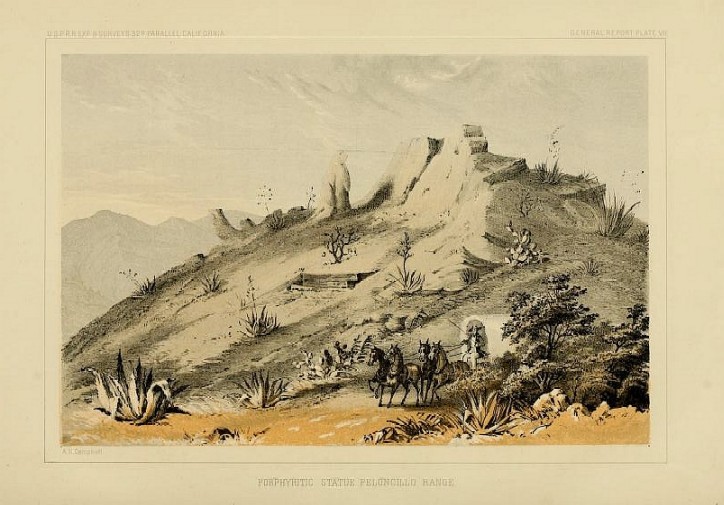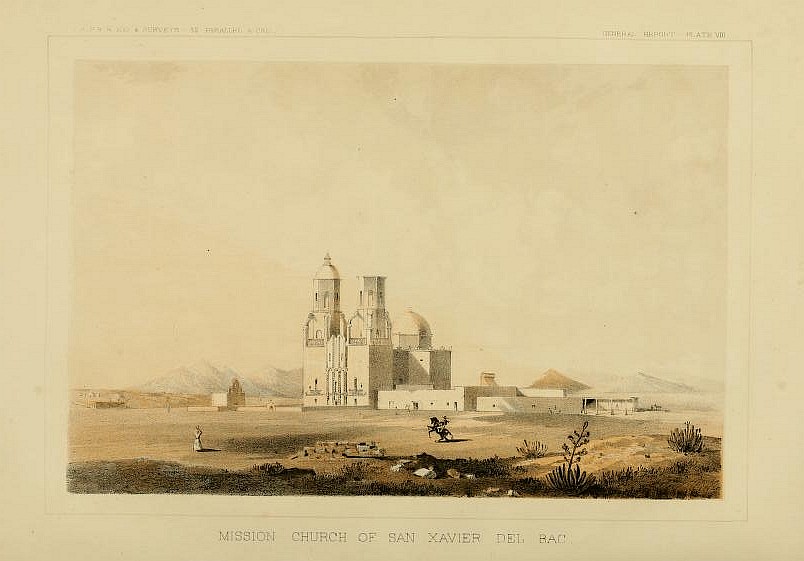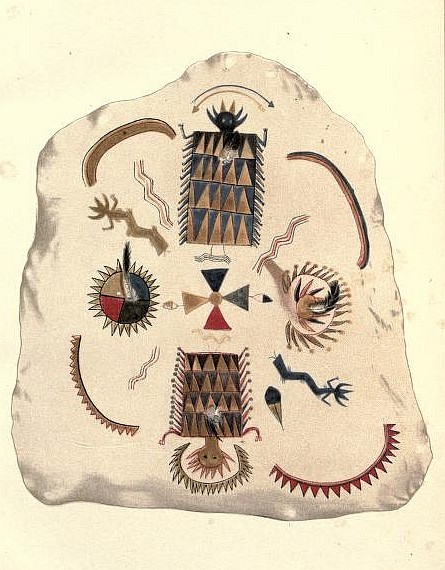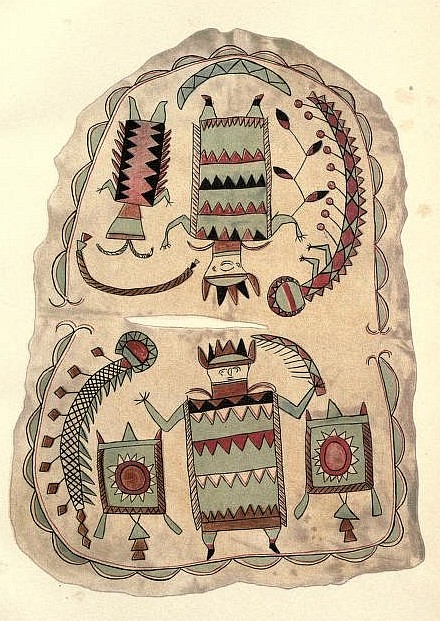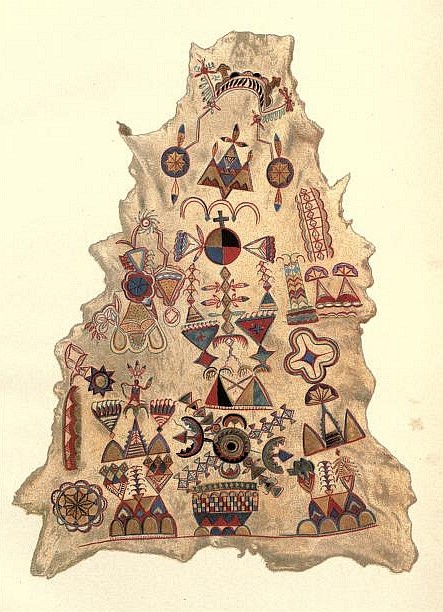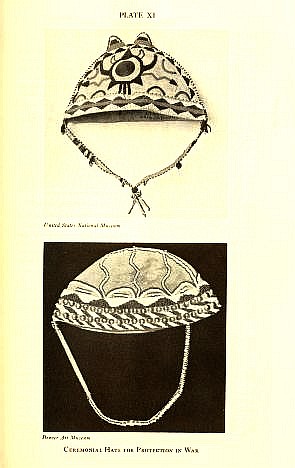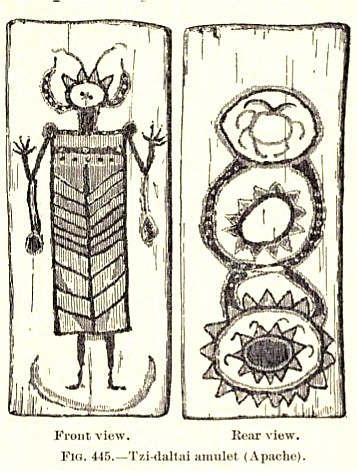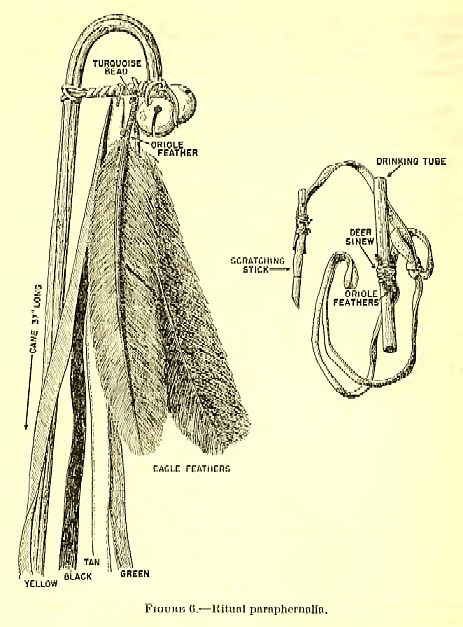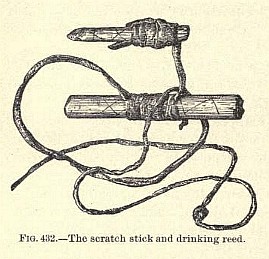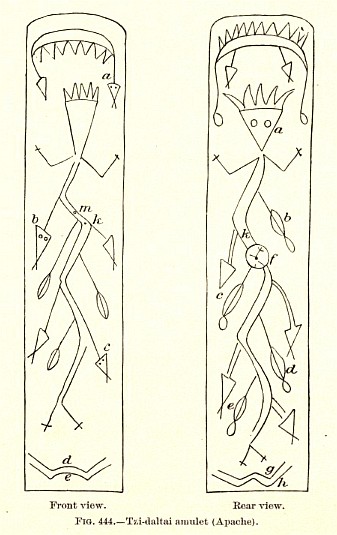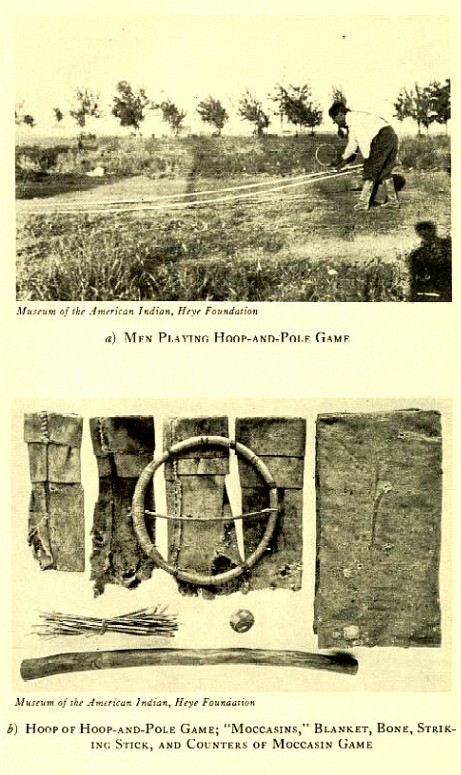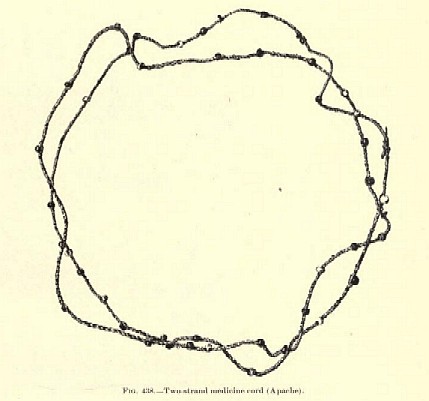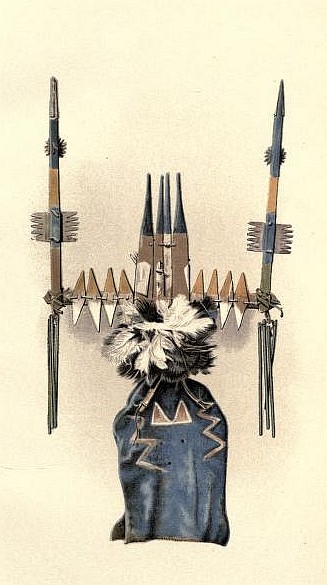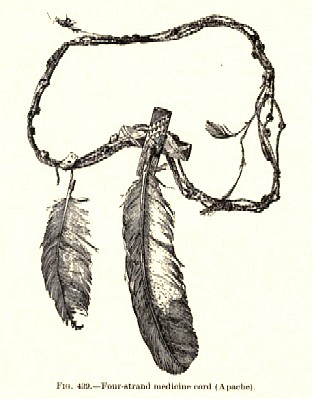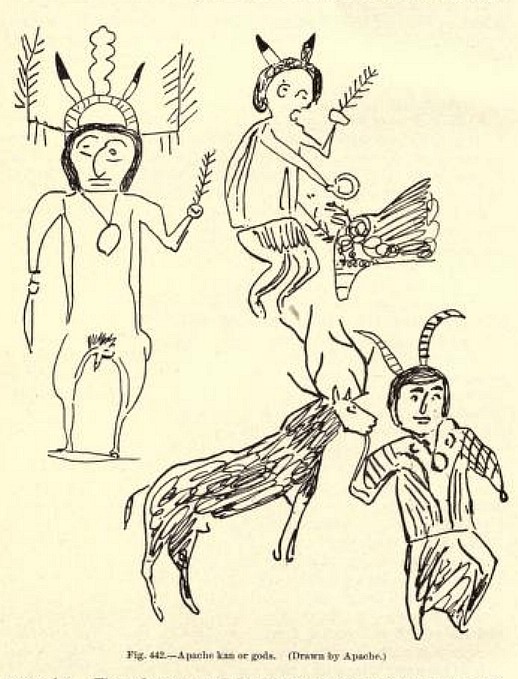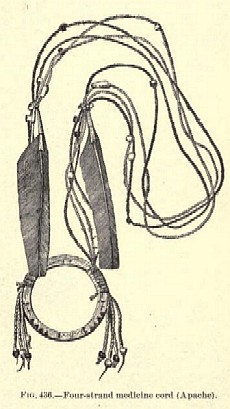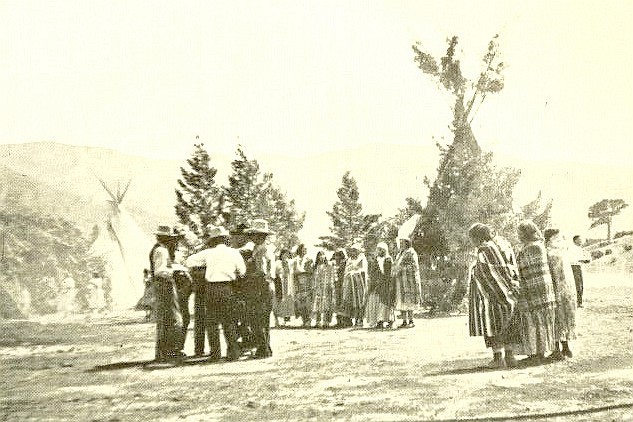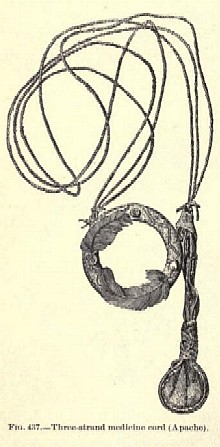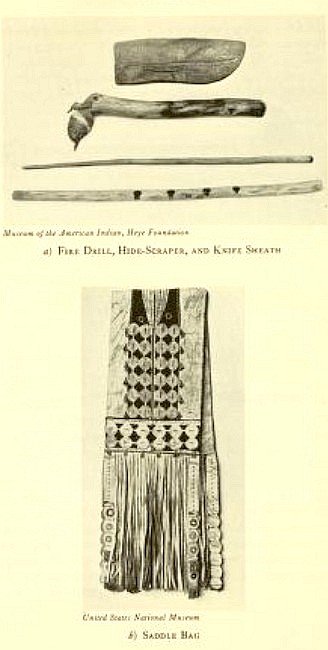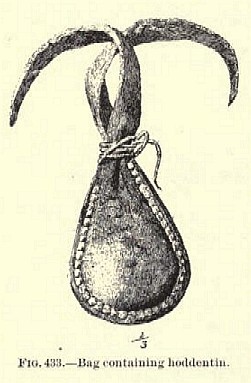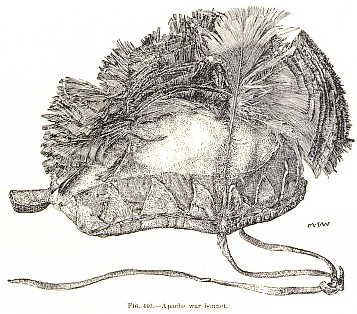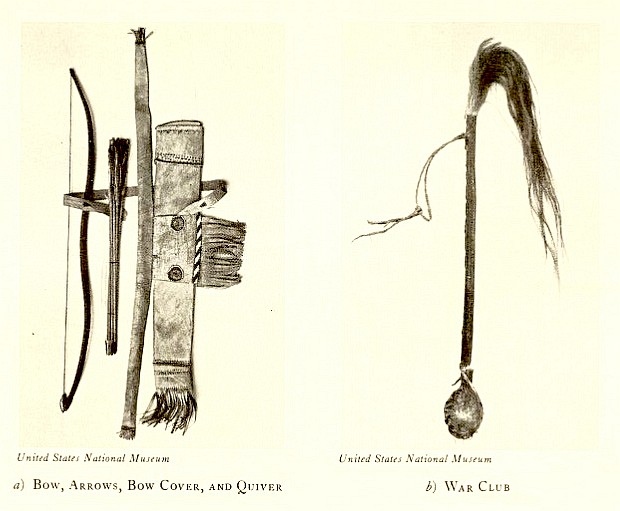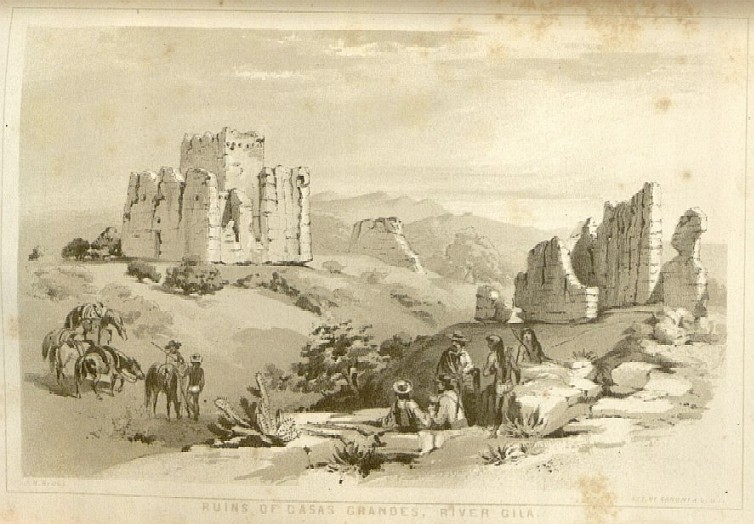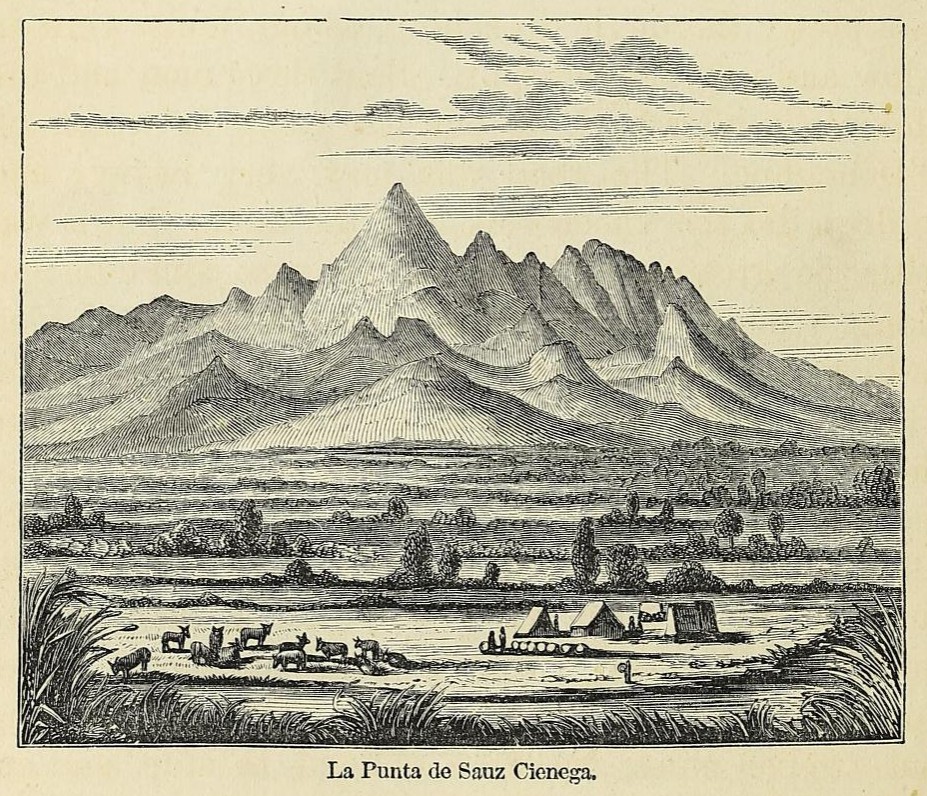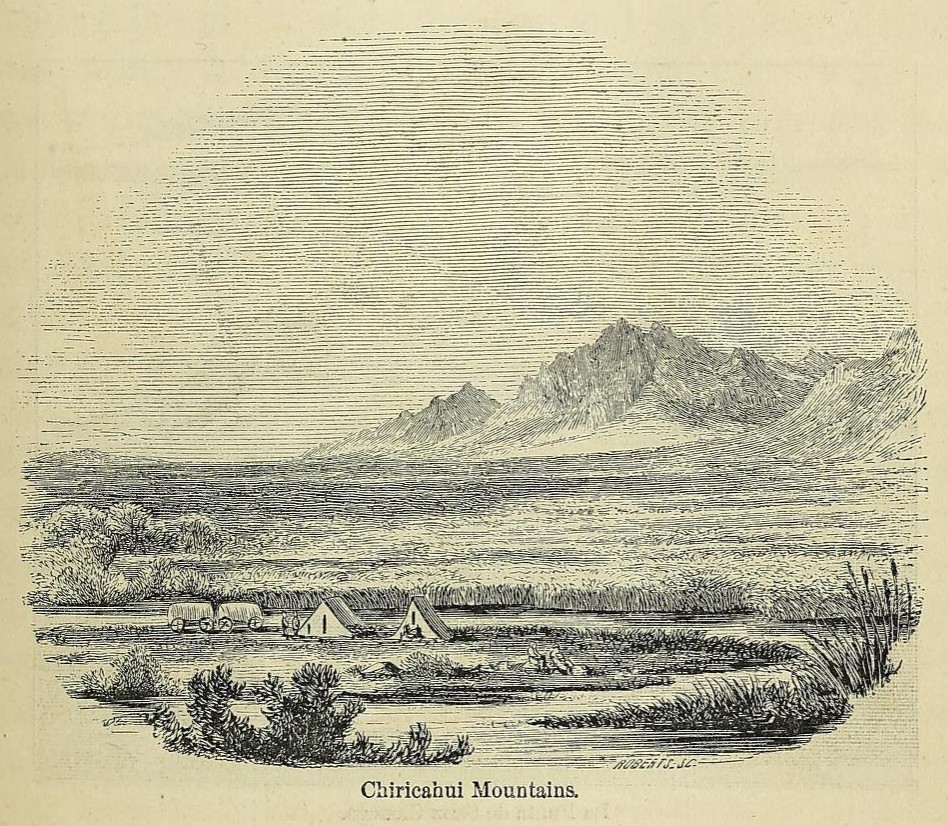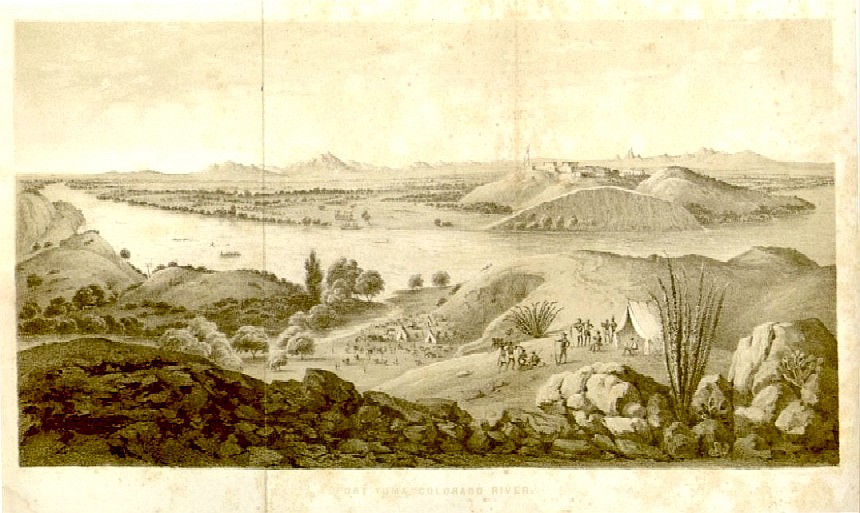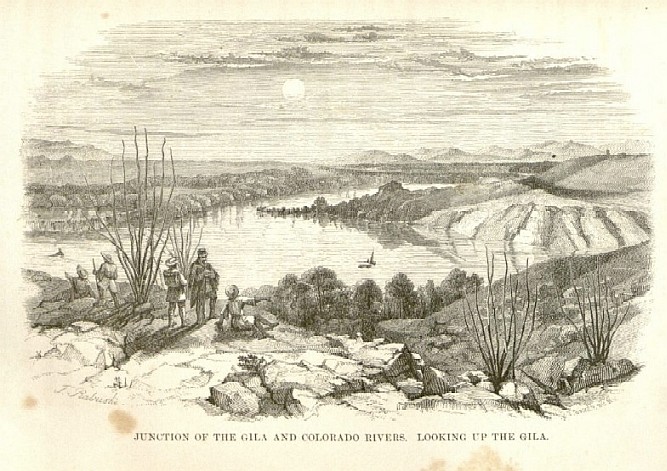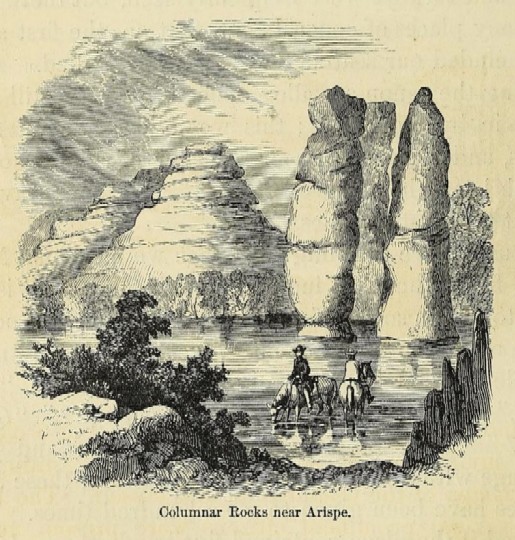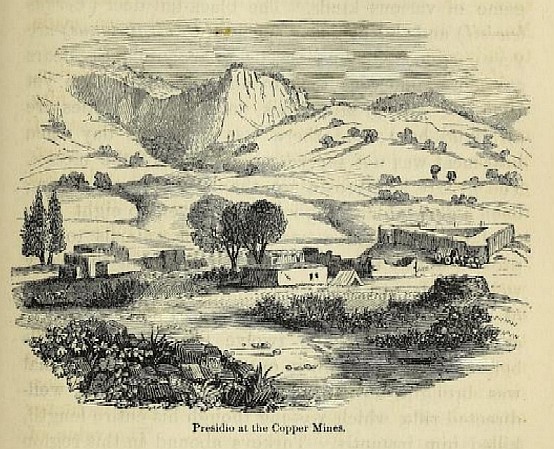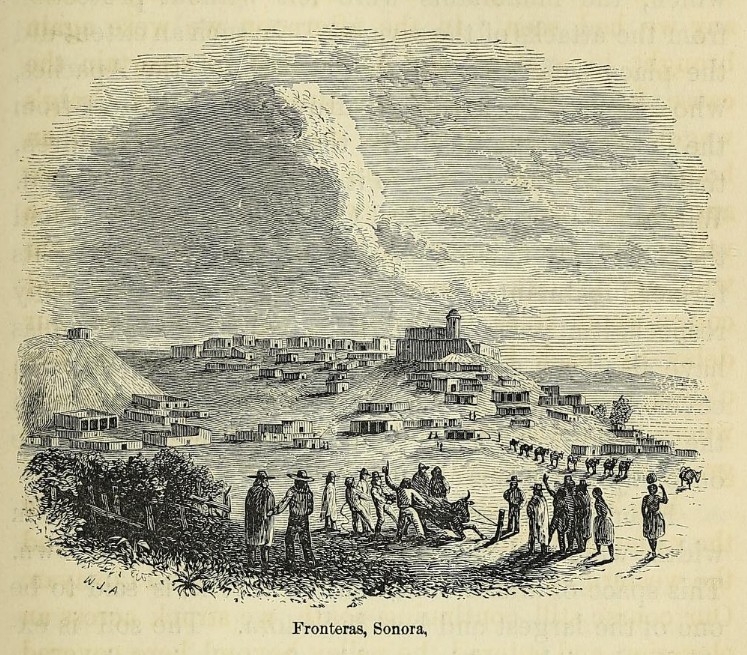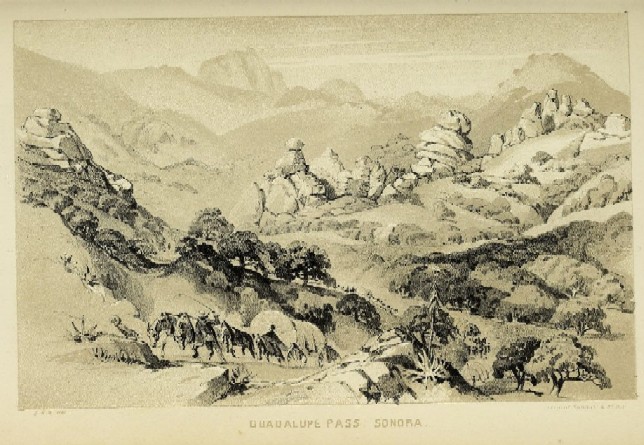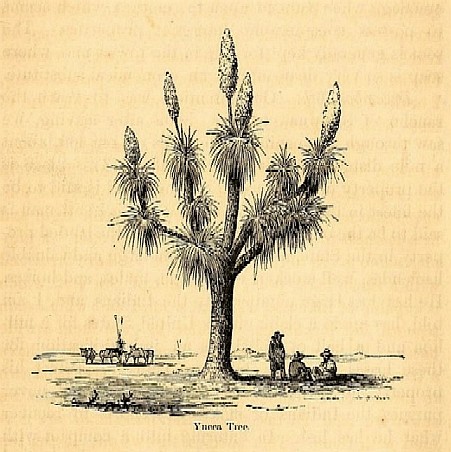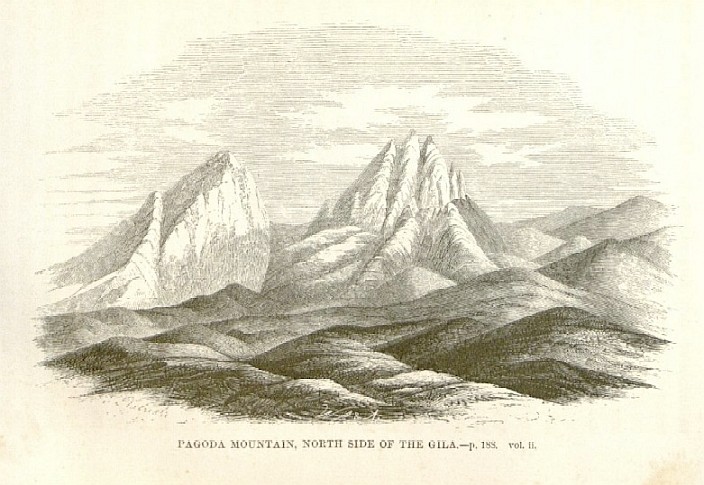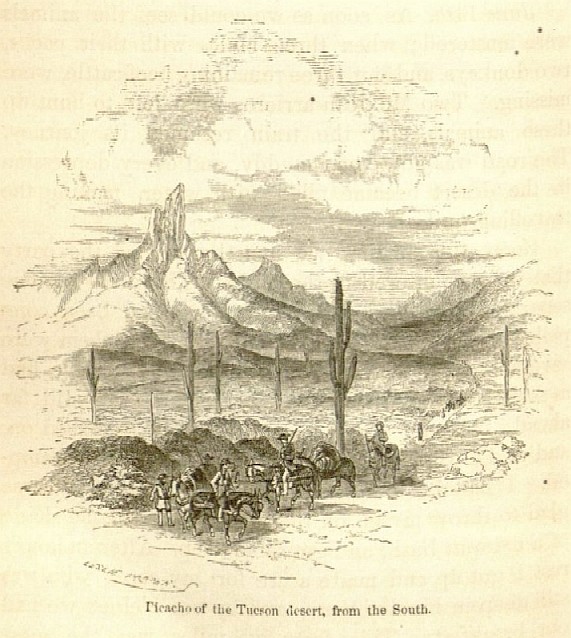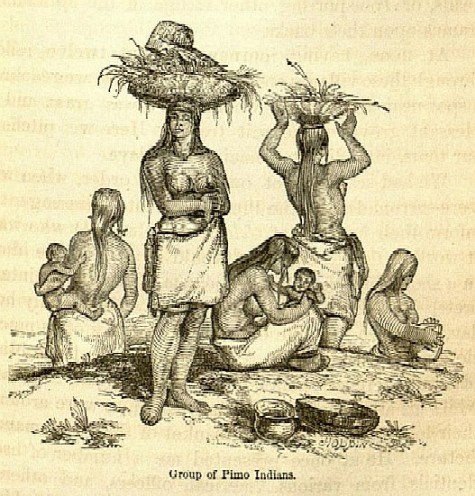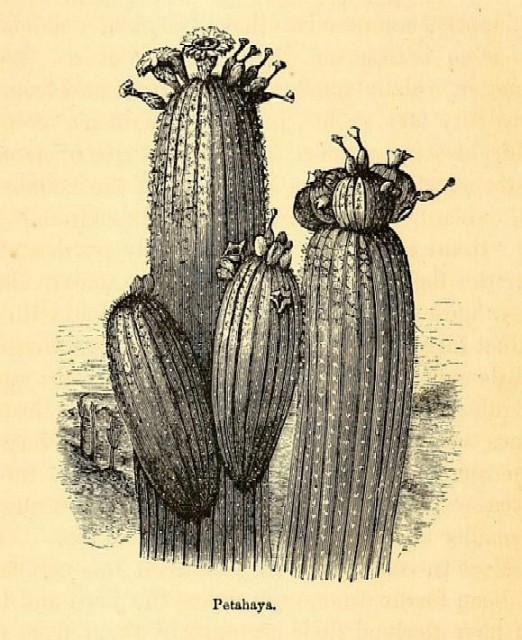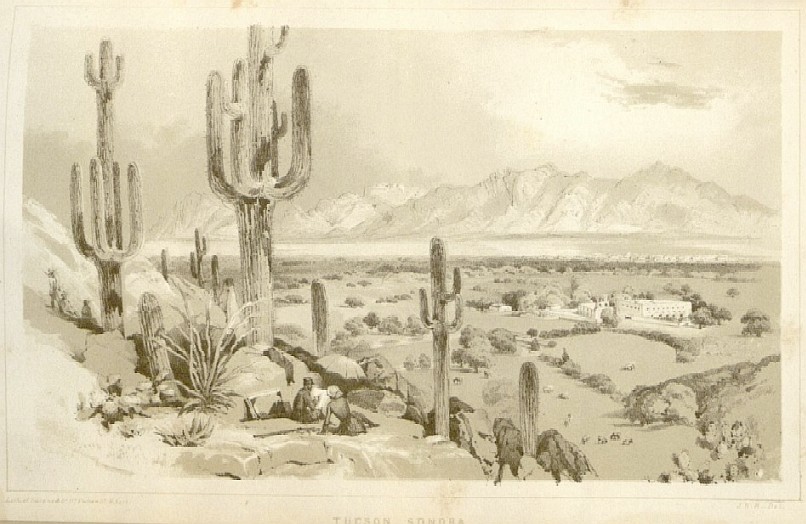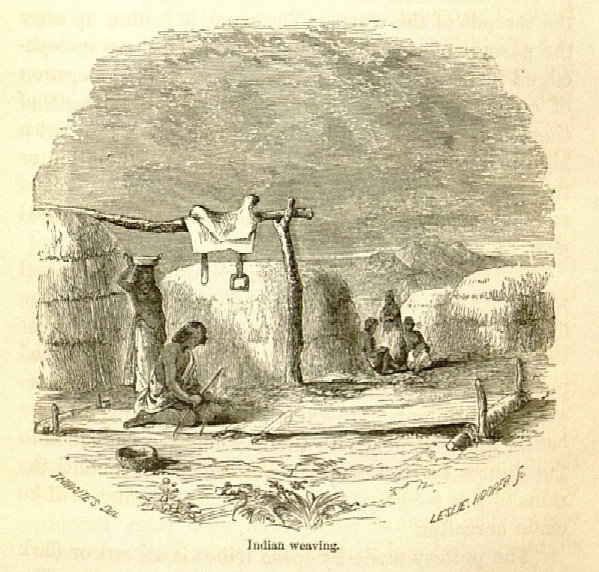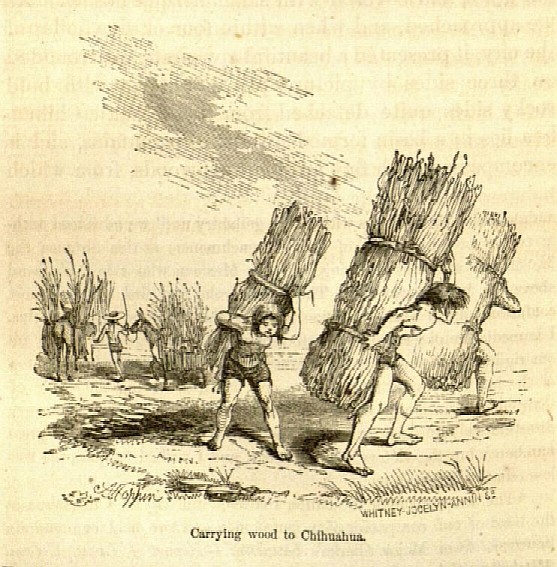 Another apparently well-heeled gentleman adventurer who left a graphic record of the Gadsden Purchase frontier was John Ross Browne, in Adventures in the Apache Country: A Tour Through Arizona and Sonora, with Notes on the Silver Regions of Nevada (New York: Harper & Brothers, Publishers, 1869):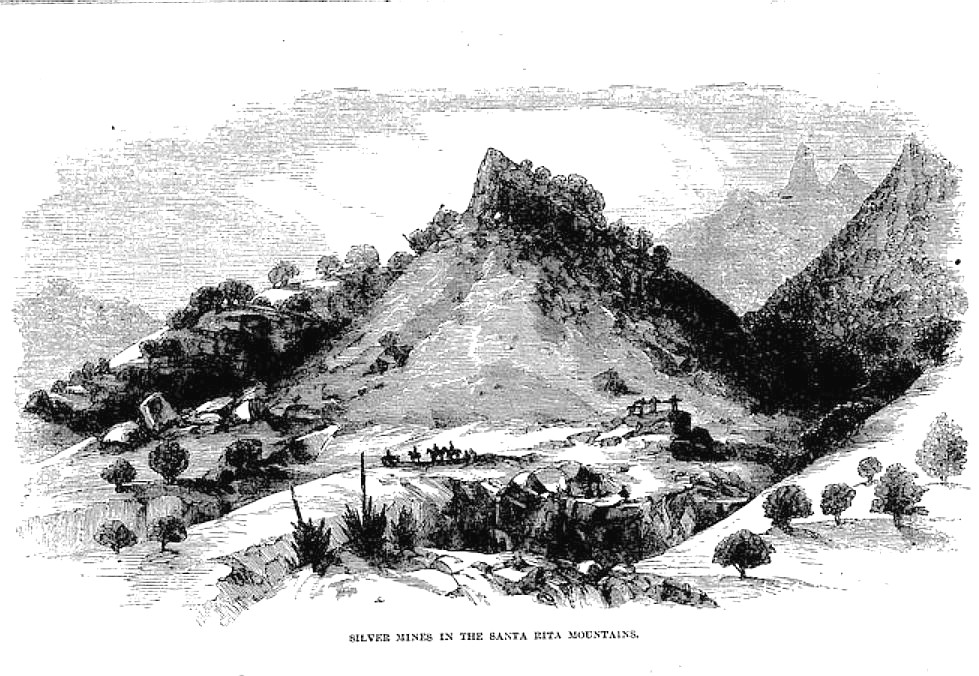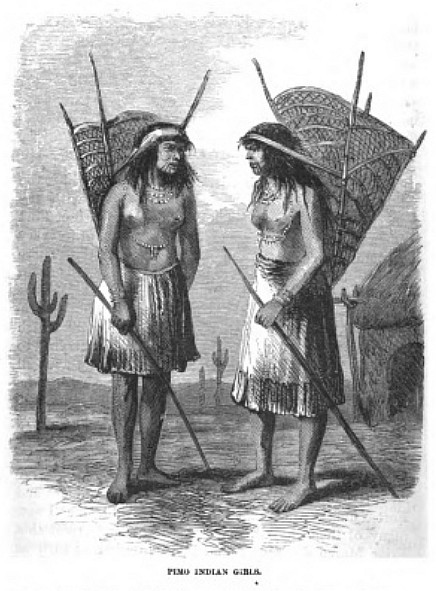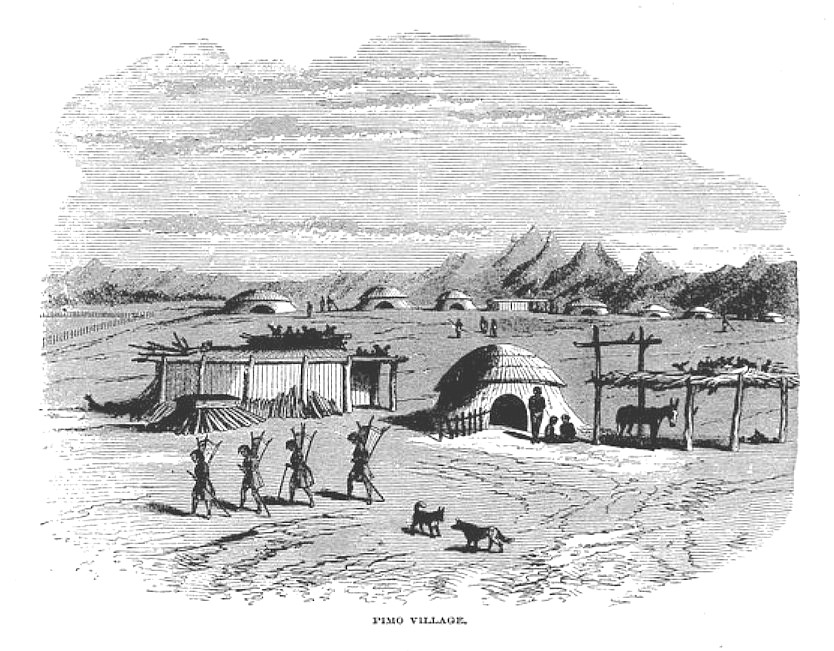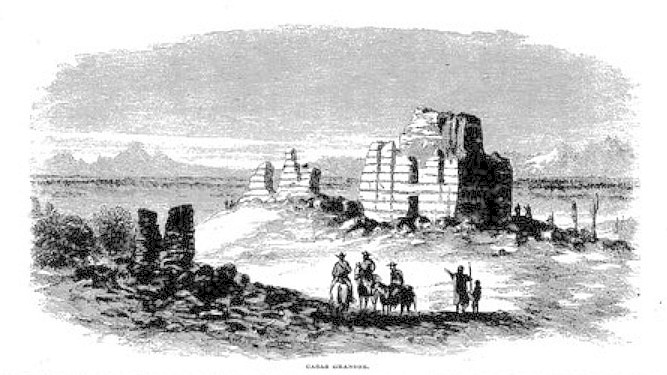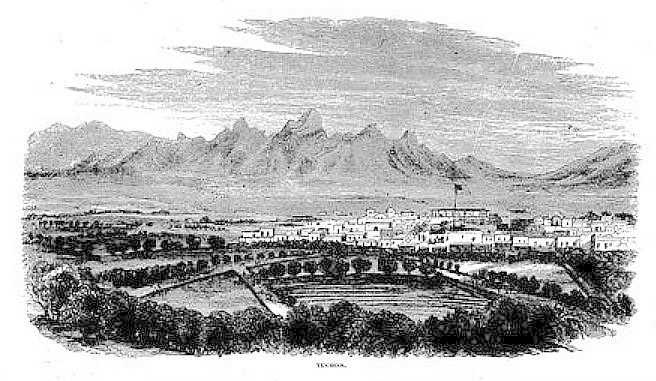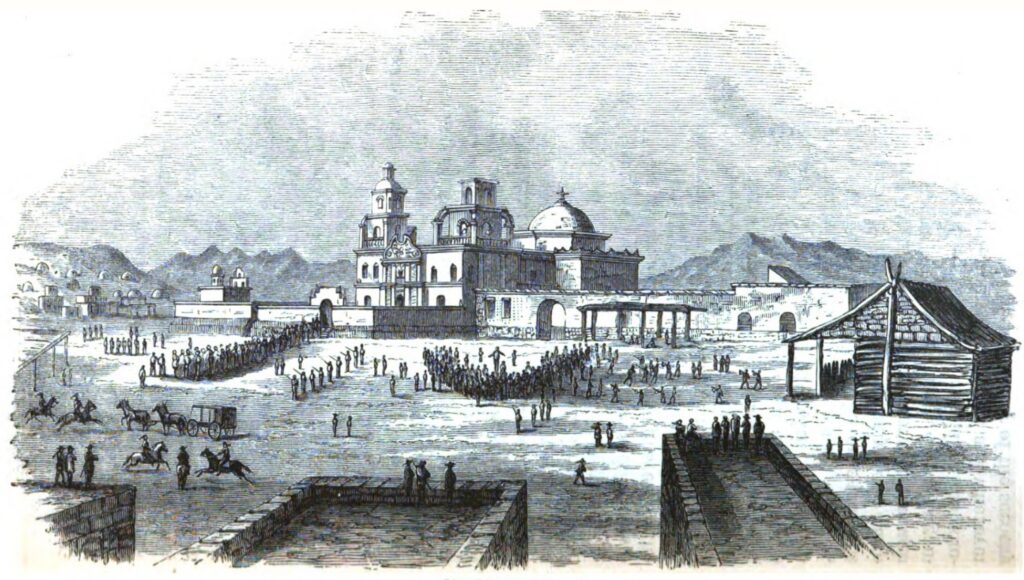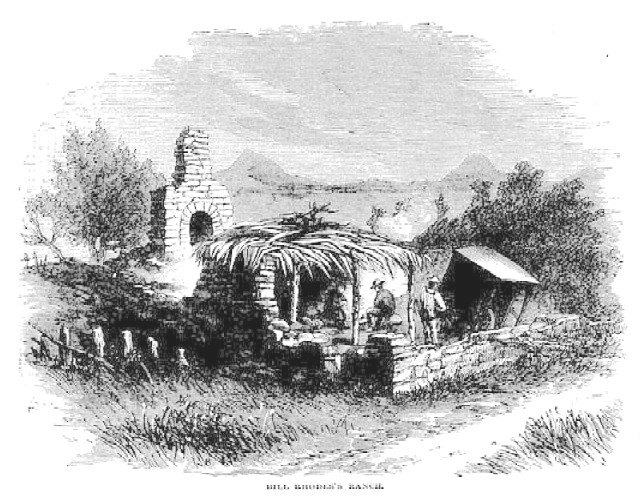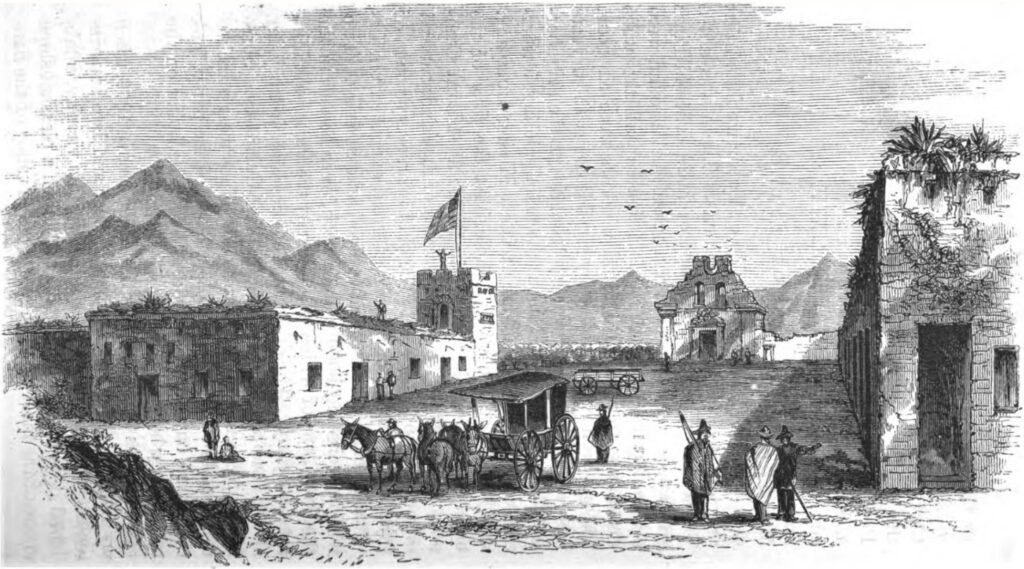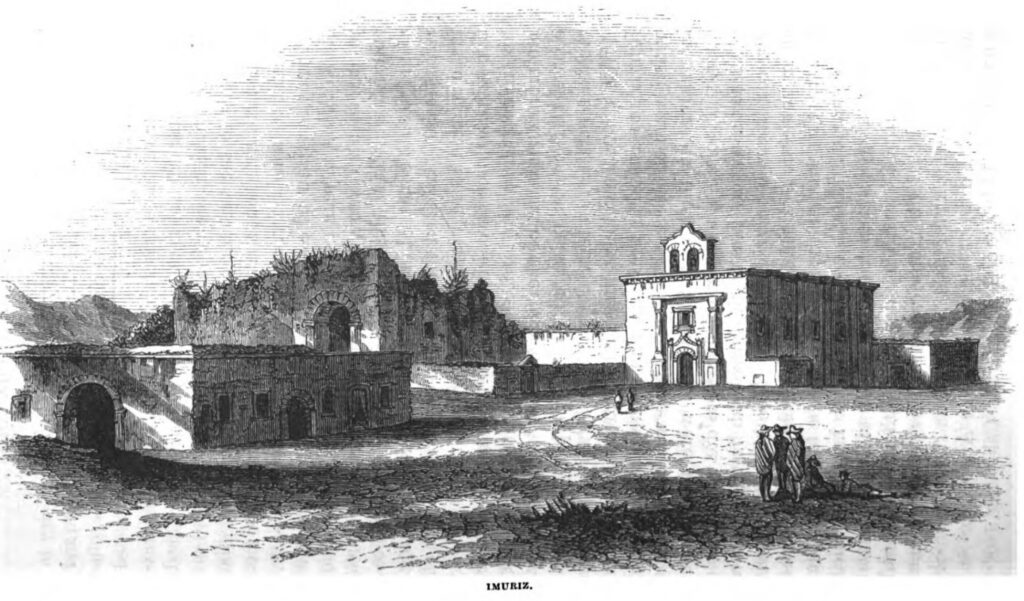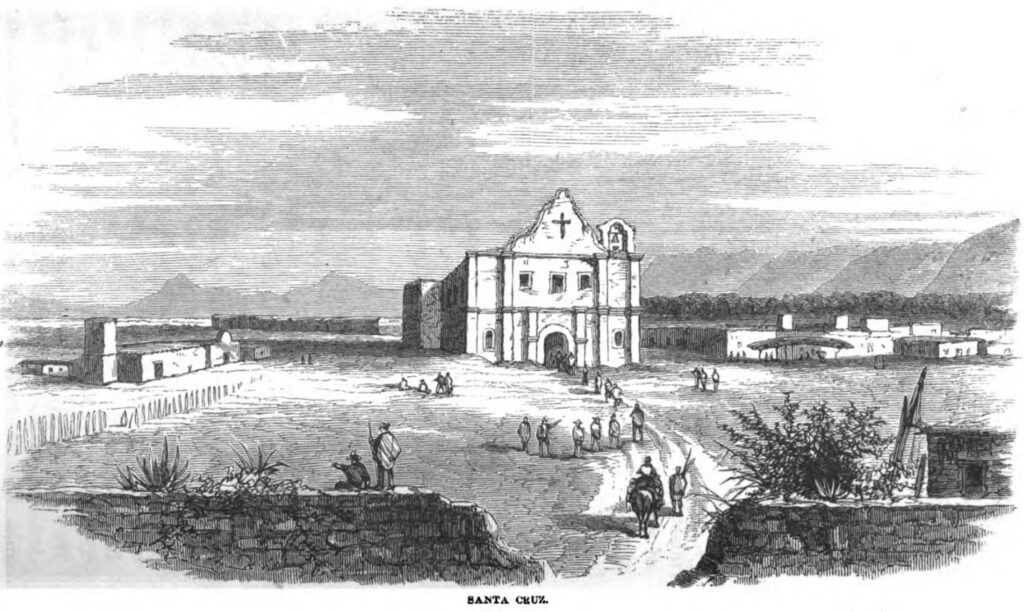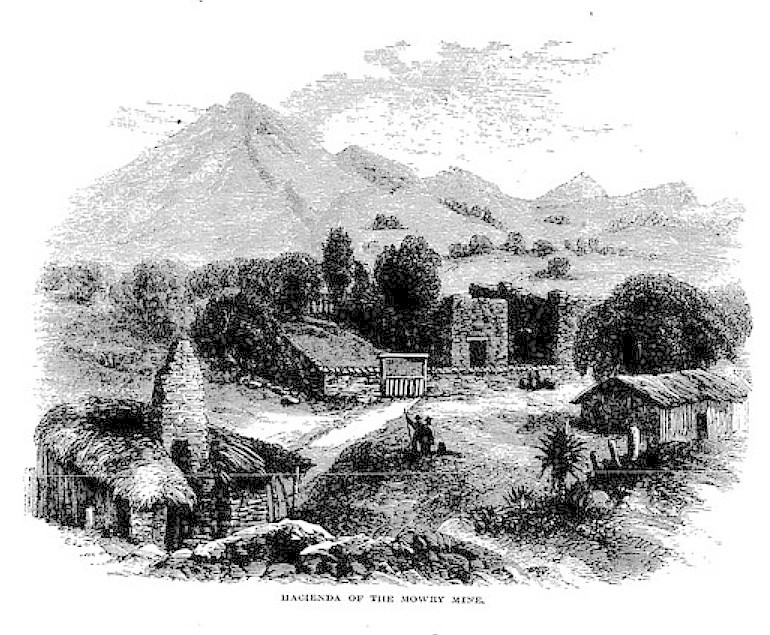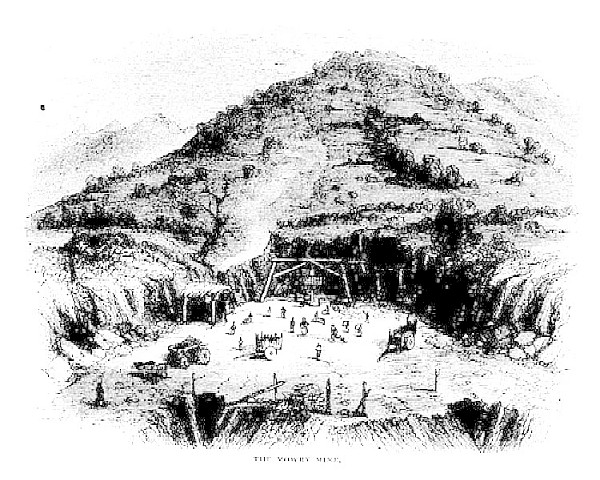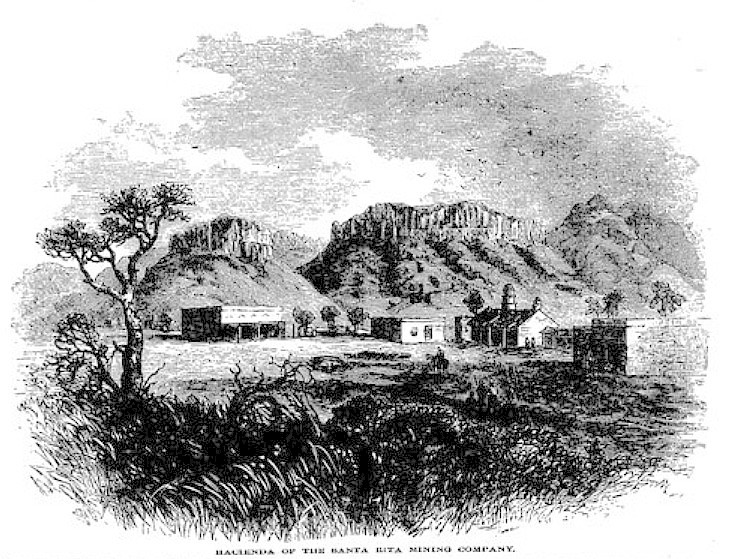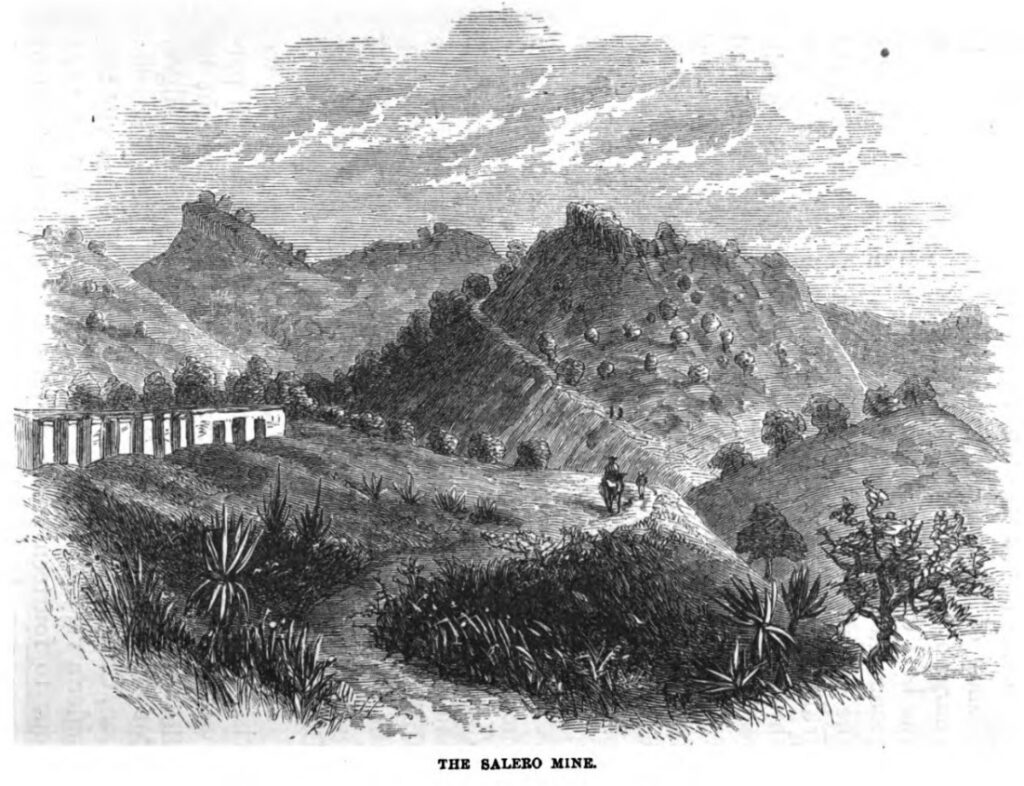 Gray offered more images than those at the top of this page: Andrew Belcher Gray, The A. B. Gray Report: Survey of a Route on the 32nd Parallel for the Texas Western Railroad, 1854 (Cincinnati: Wrightson & Co., 1856):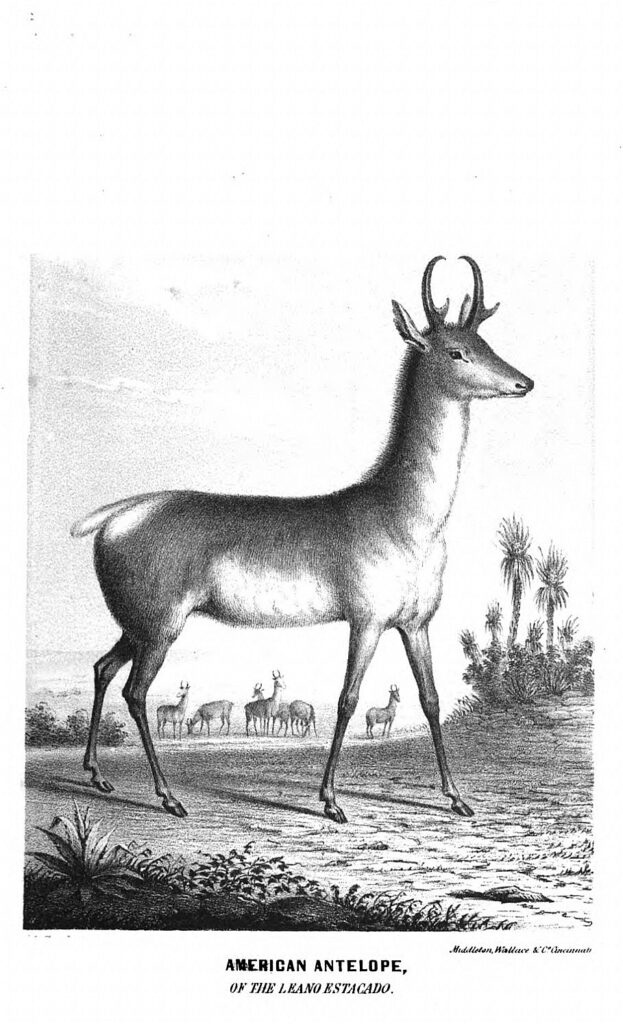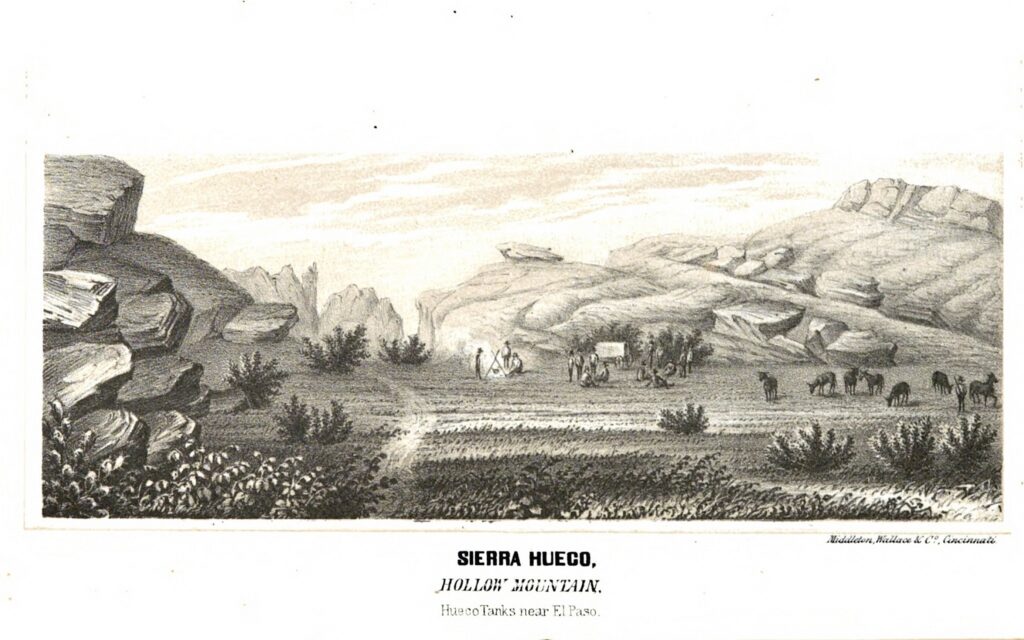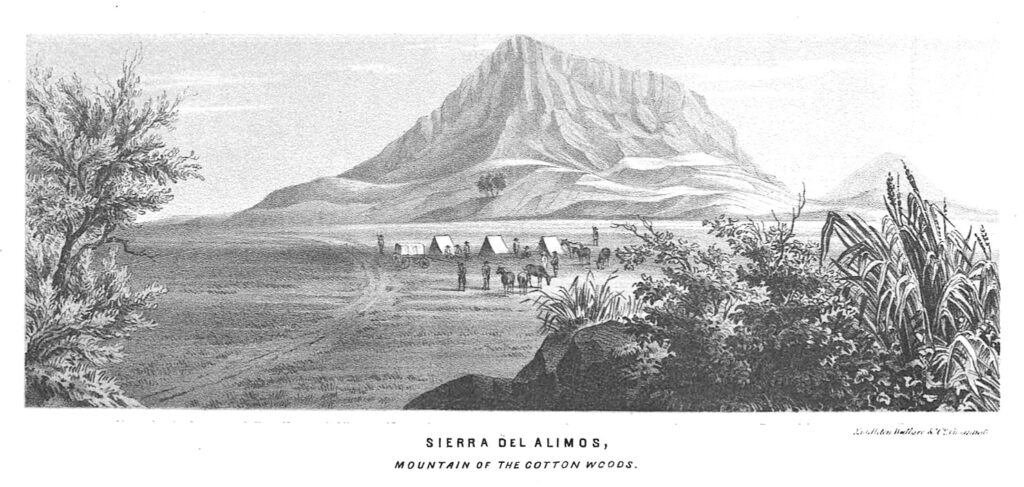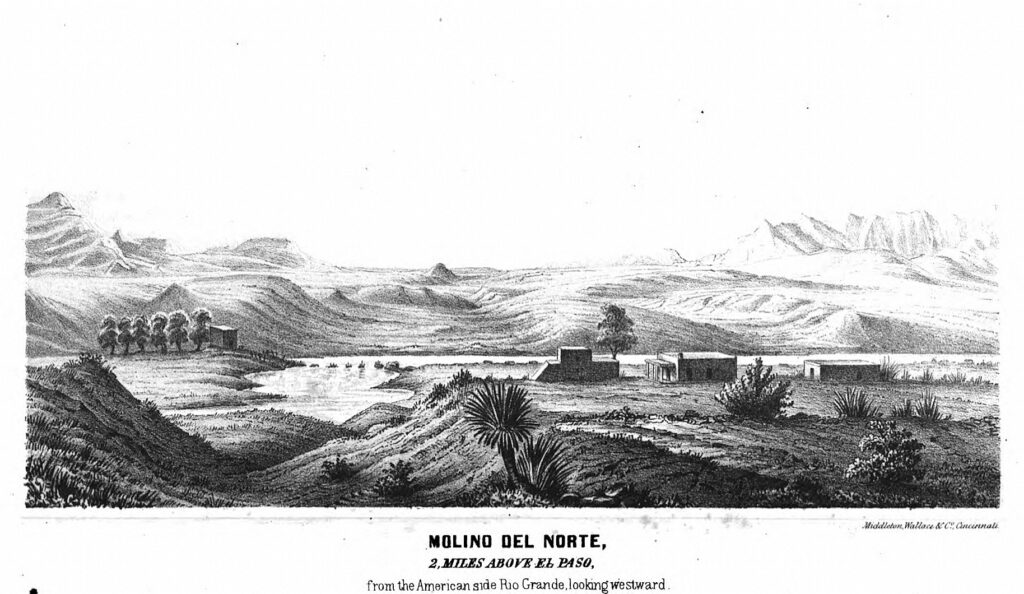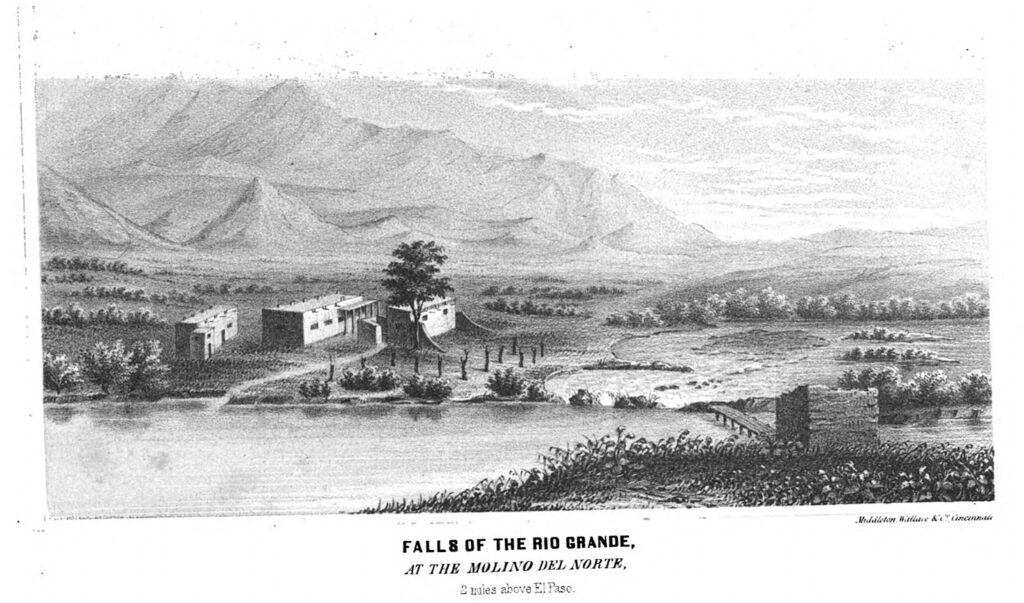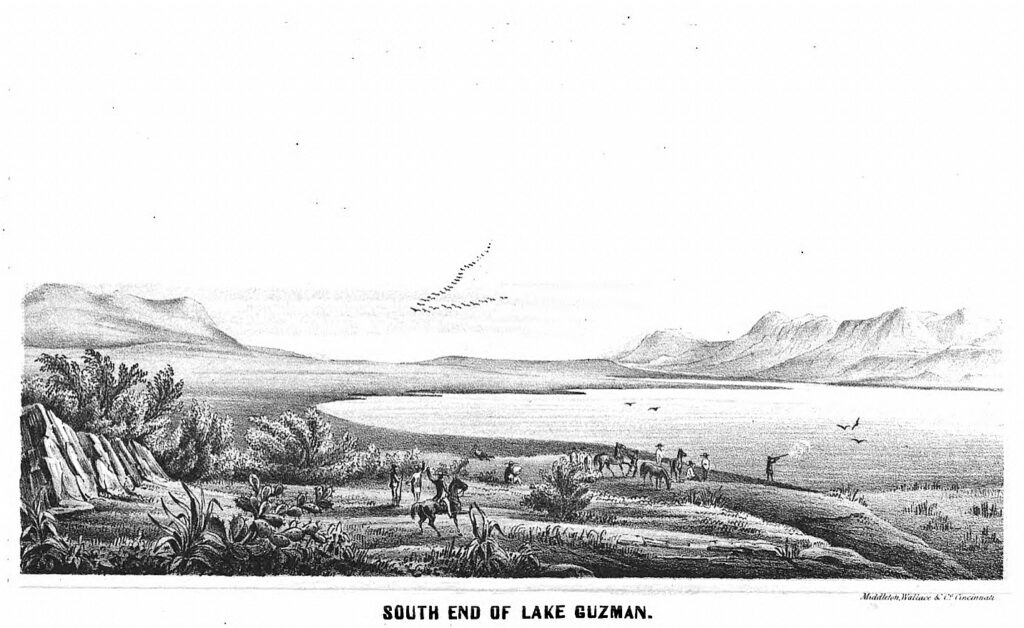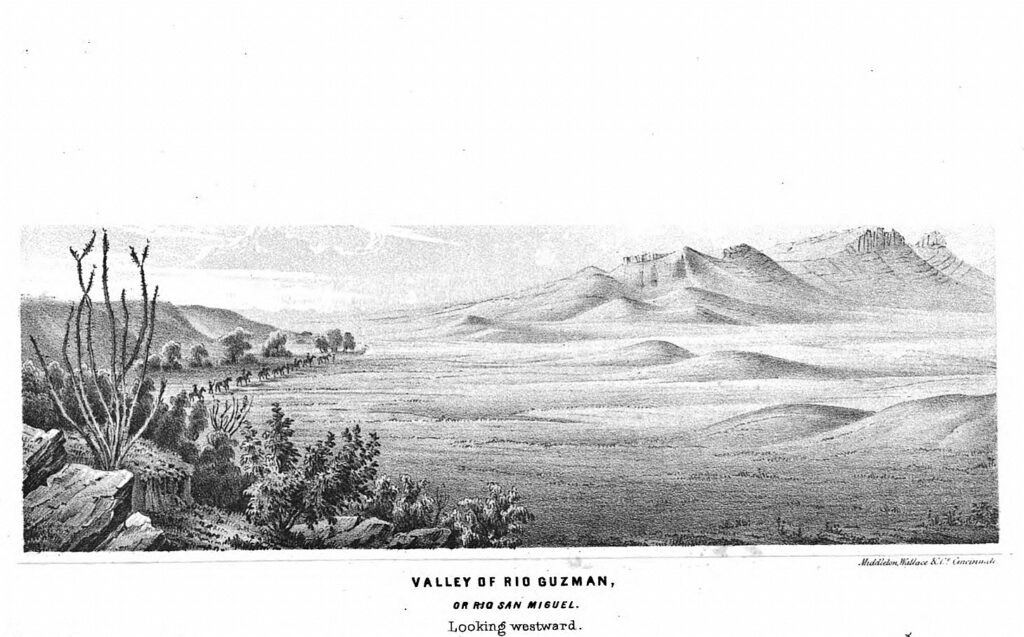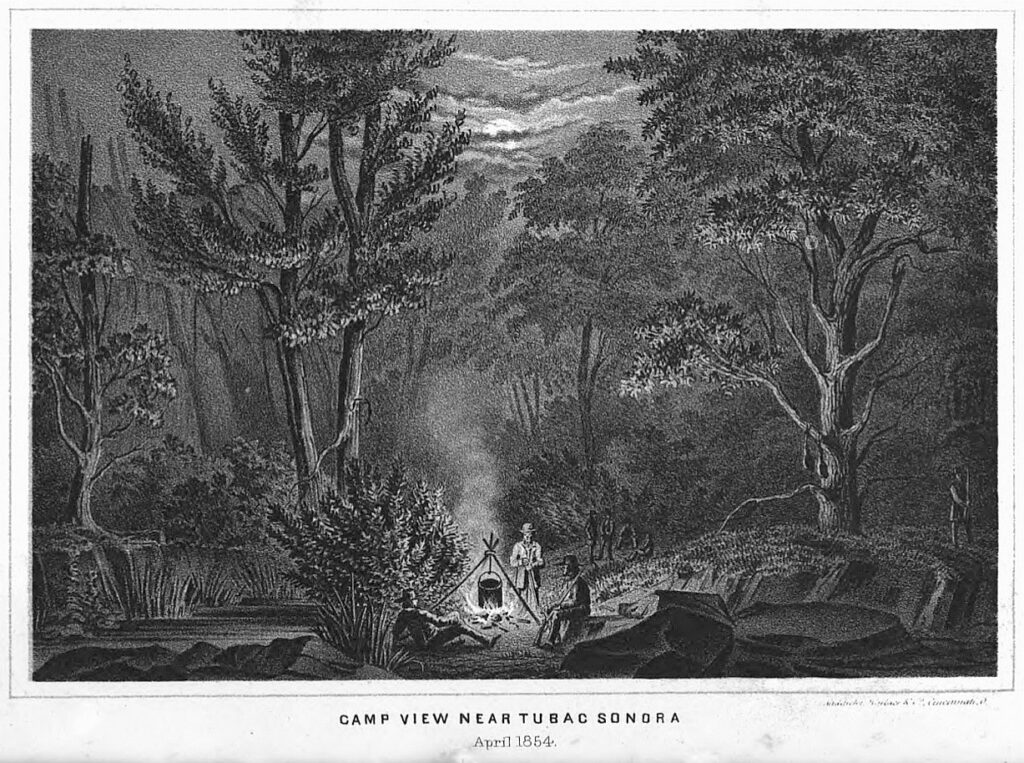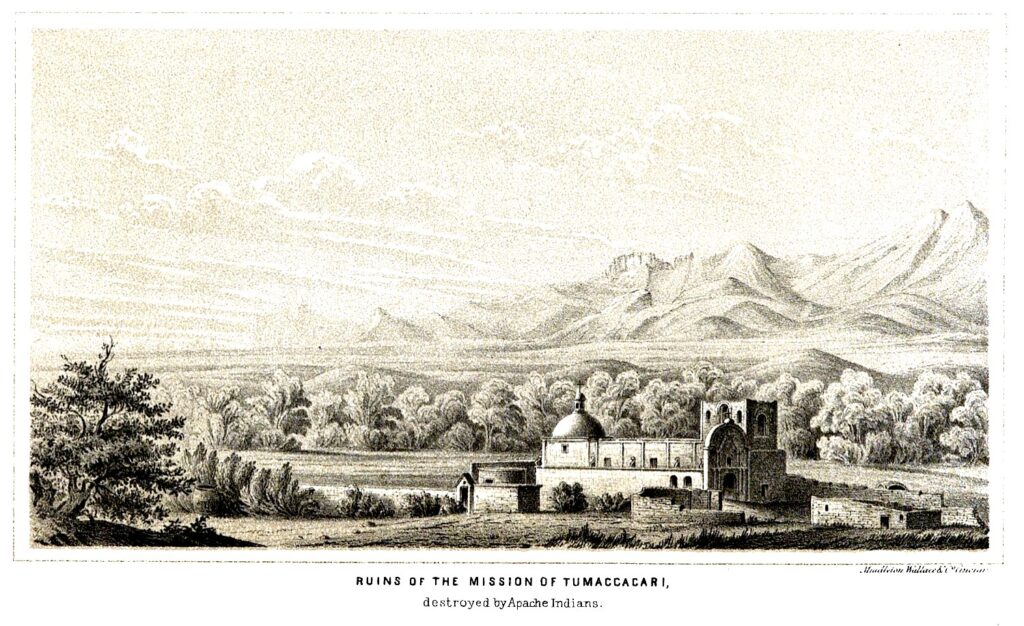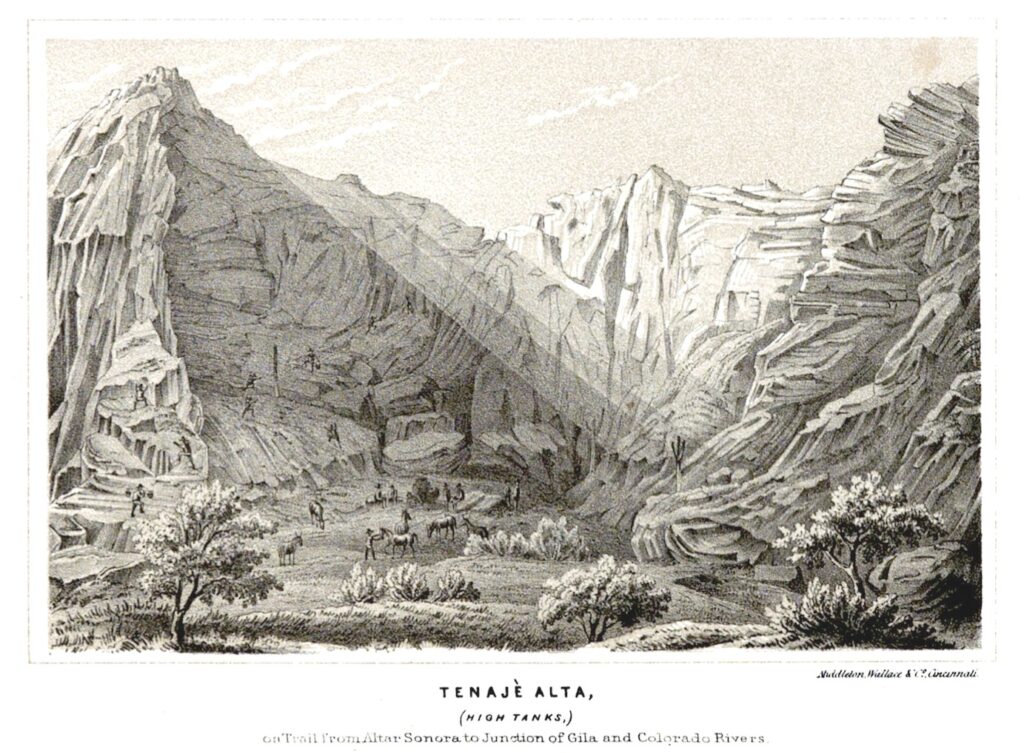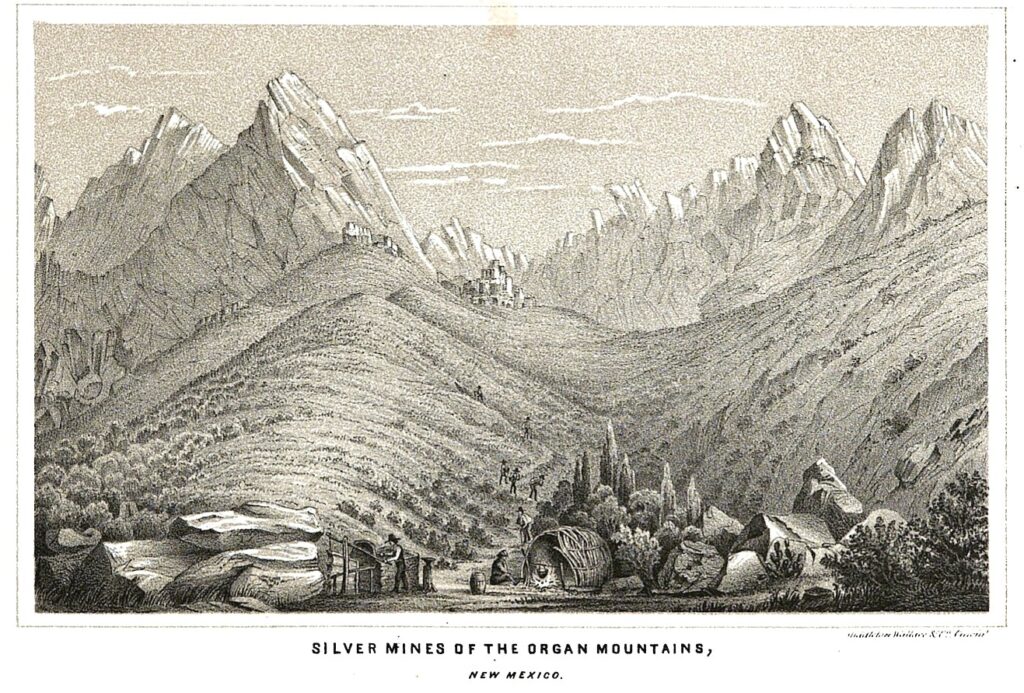 Emory recorded his expedition's findings and sights as well: Report on the United States and Mexican Boundary Survey, Made Under the Direction of the Secretary of the Interior, William H. Emory, Vol. I (Washington: A. O. P. Nicholson, Printer, 1857):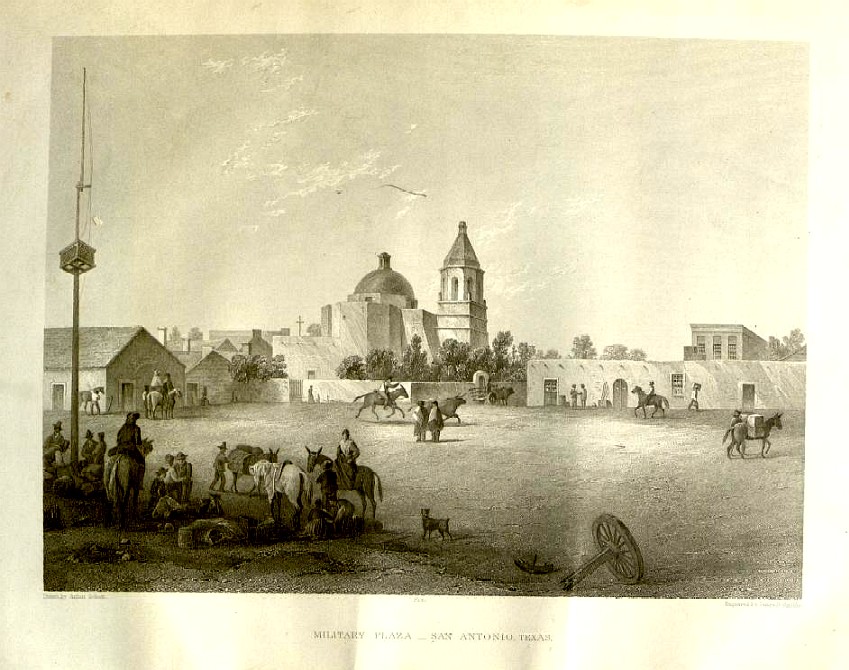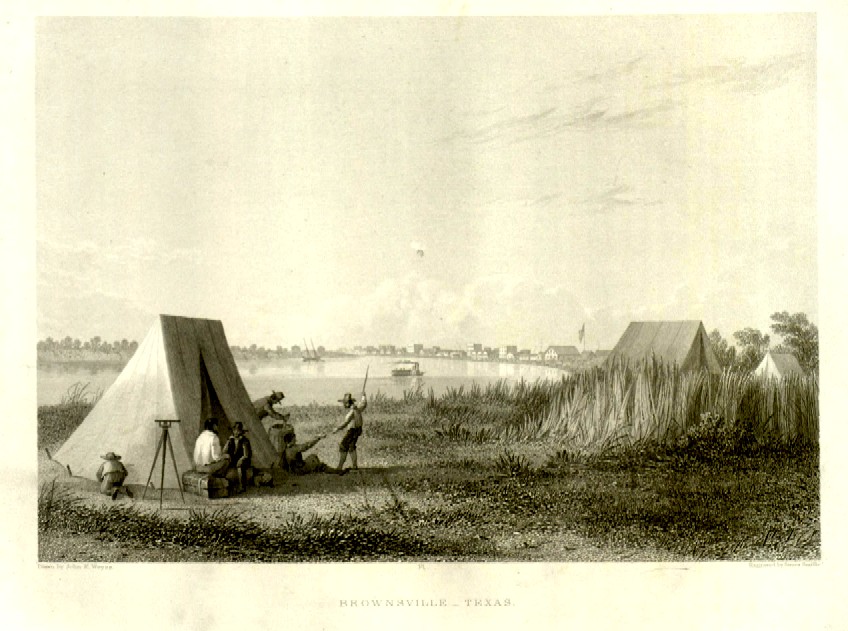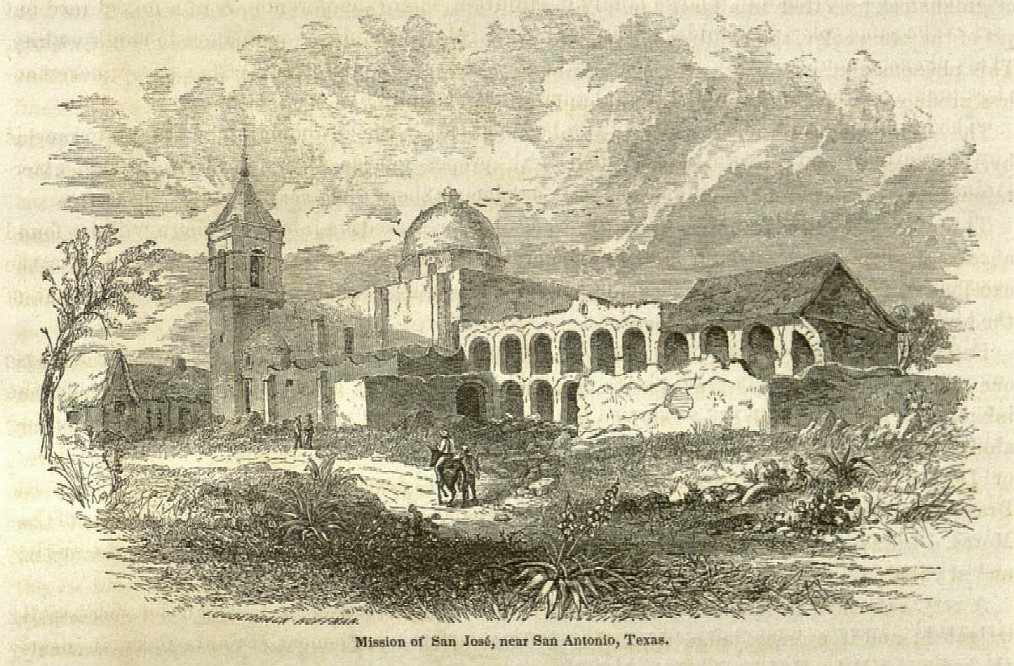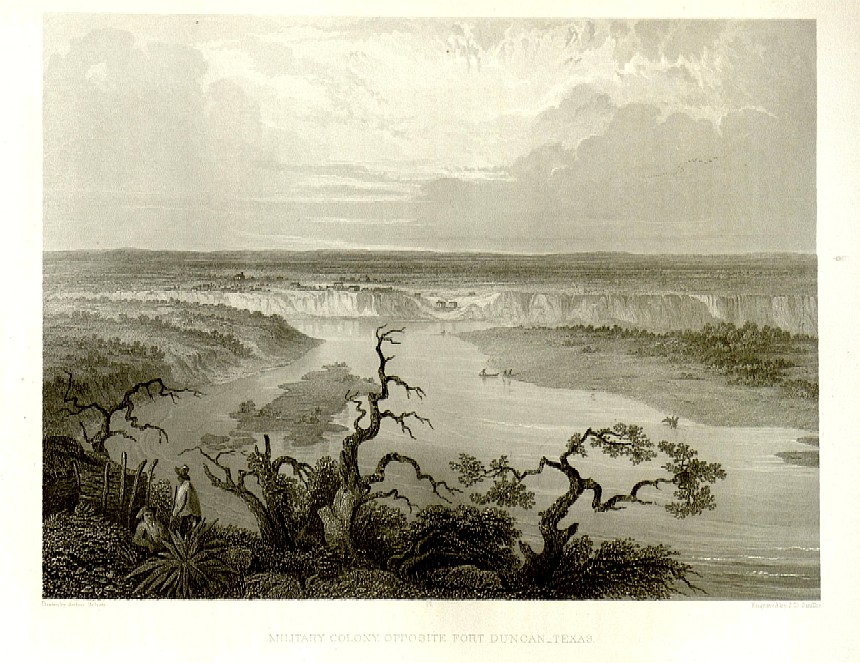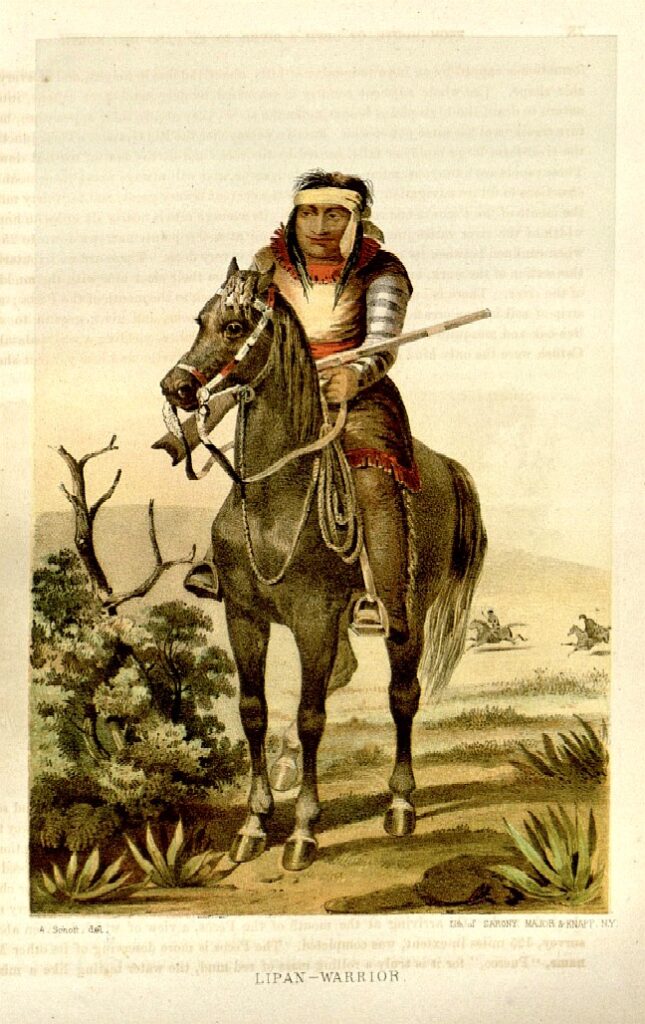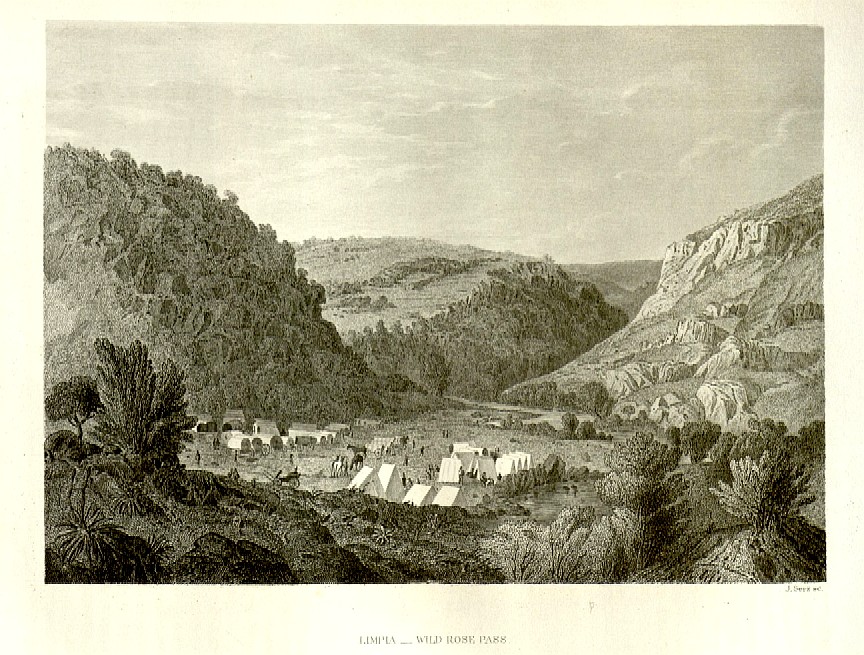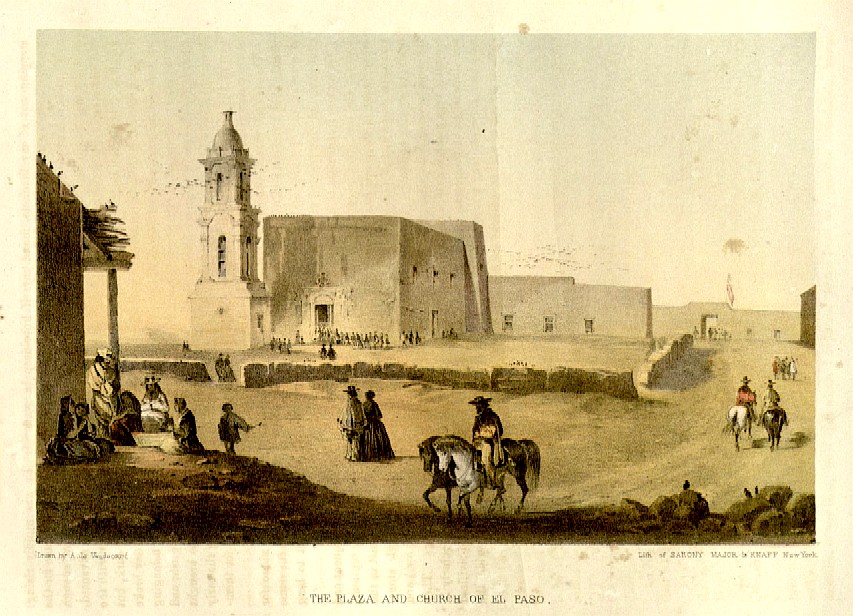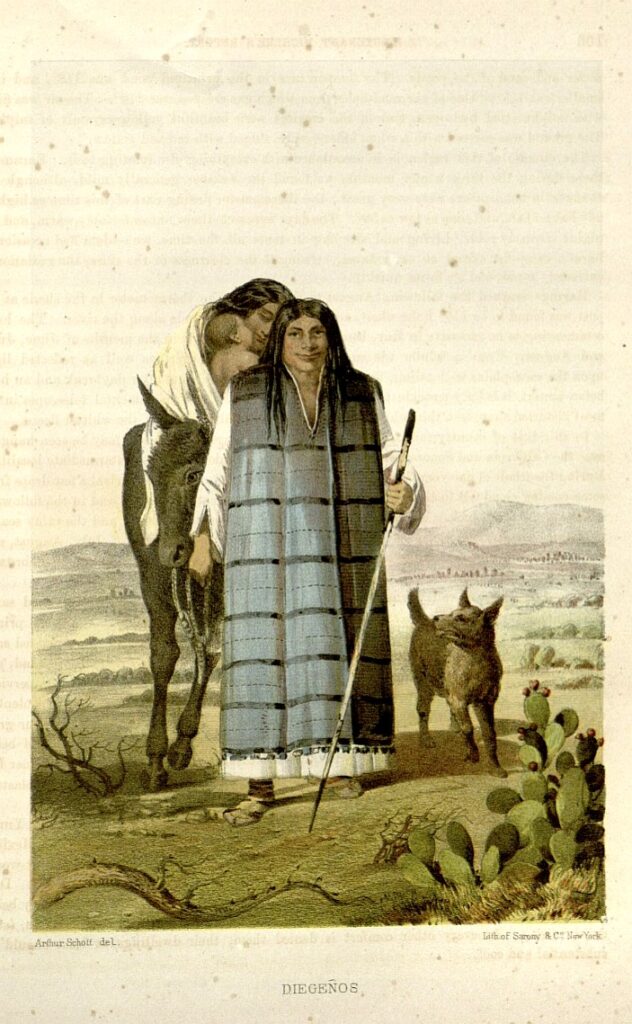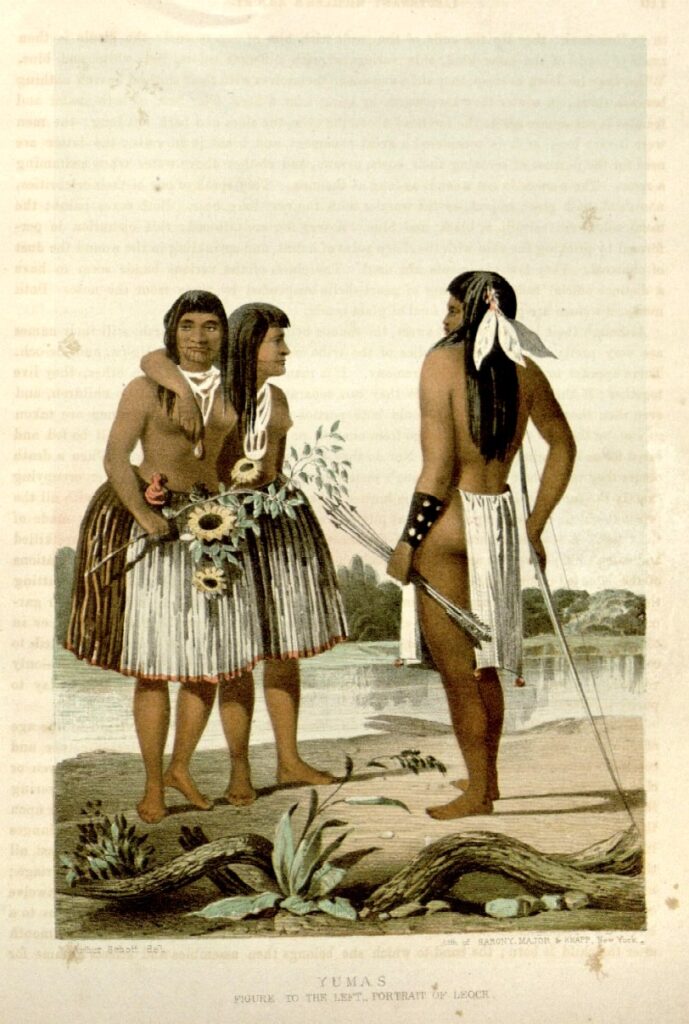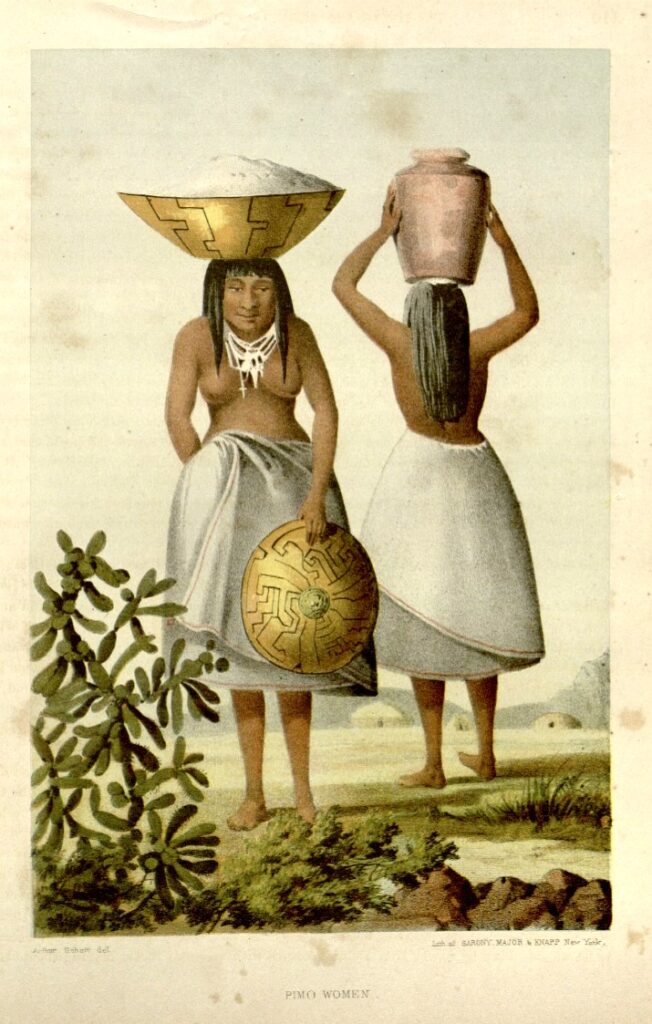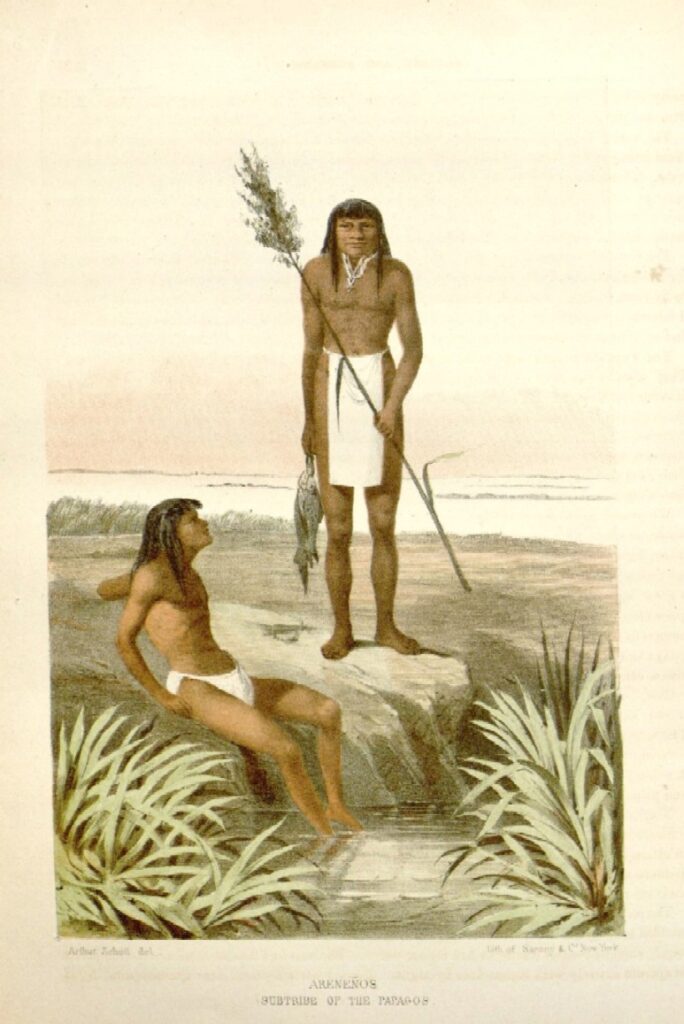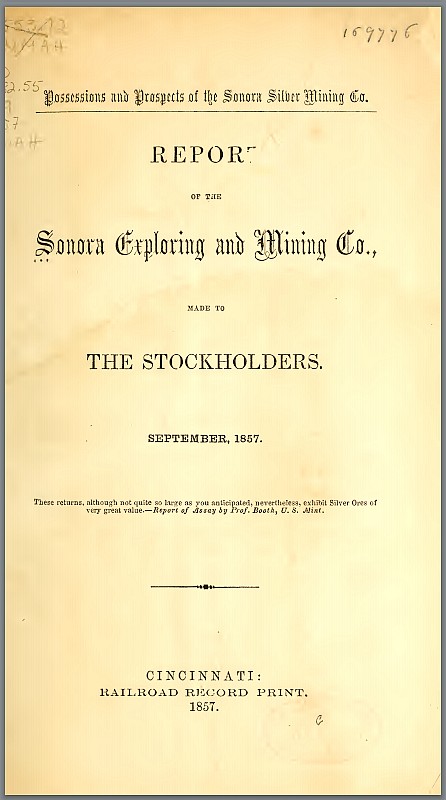 The Sonora Exploring and Mining Company's 1857 promotional brochure clearly overstated its resources and promise. Finding shareholders during a year of economic panic was difficult enough, but effectively mining the area at any time would have required extraordinary improvements in tangible infrastructure, and large, agile regiments of cavalry and attendant livestock for defense. Several field administrators for the mines would no doubt have preferred the usual risks of bankruptcy or prison in failure, over having their lives taken.
We wish we had a response to the pamphlet from the 140 or so migrant barreteros and tenateros, who were paid through credits at the overpriced company stores — when they were paid — and had to fight American filibusters and Pinal, Gileño, and Chiricahua raiders both in Arizona's mines and at home across the Sonora line. (Ehrenberg's map of the Gadsden Purchase locates many of their familiar towns.) But the propaganda did provide some work for illustrators: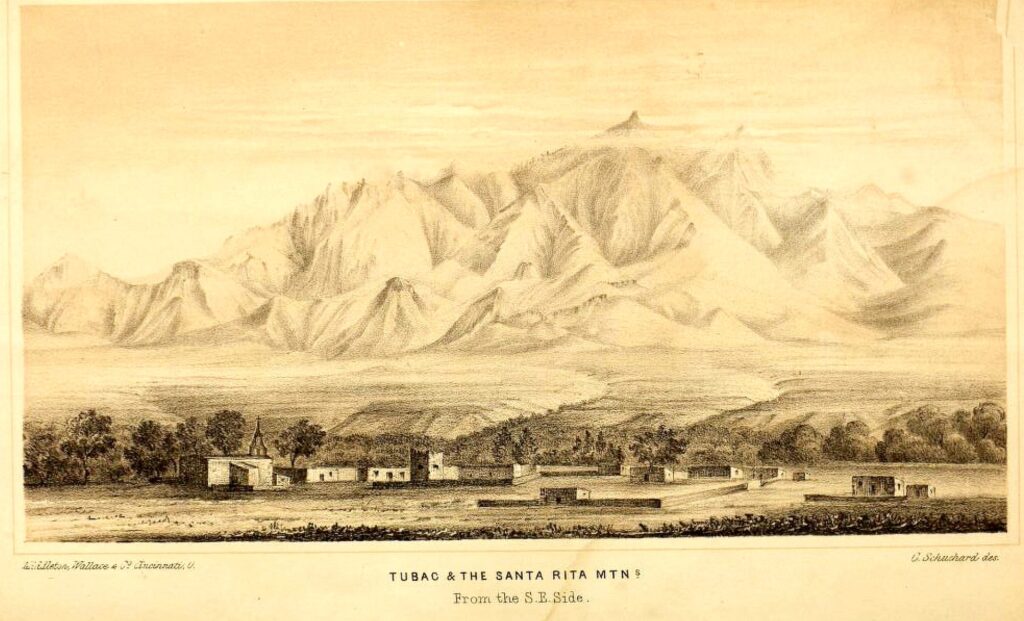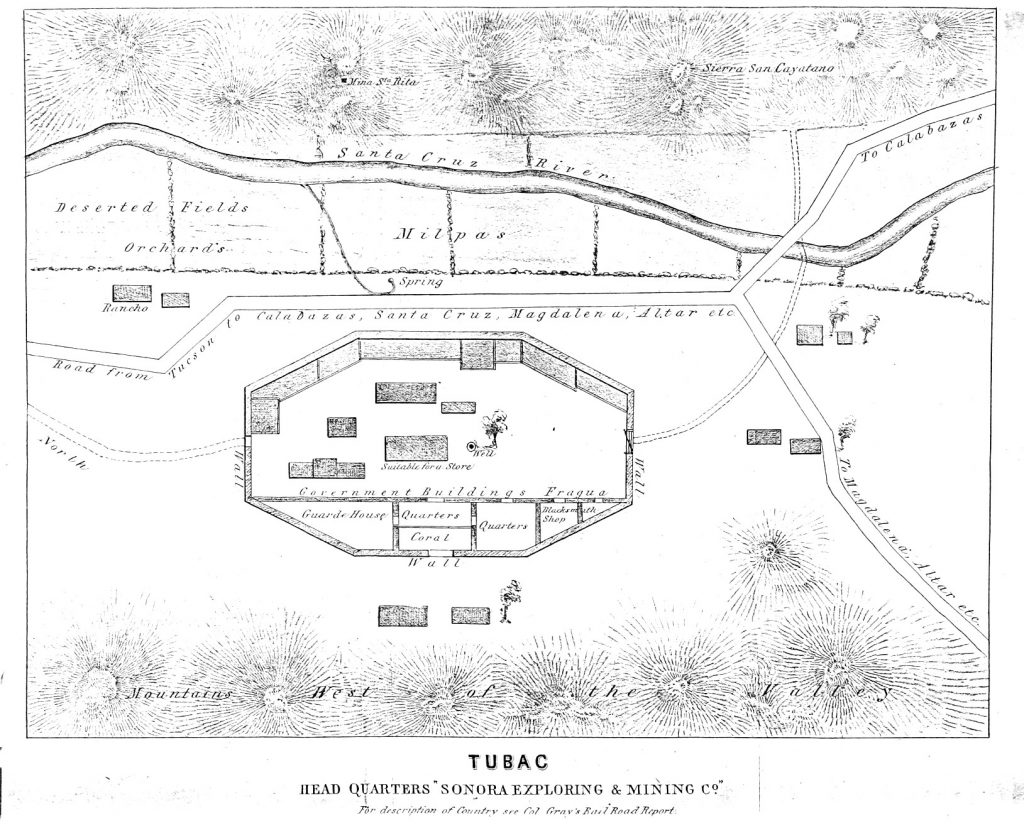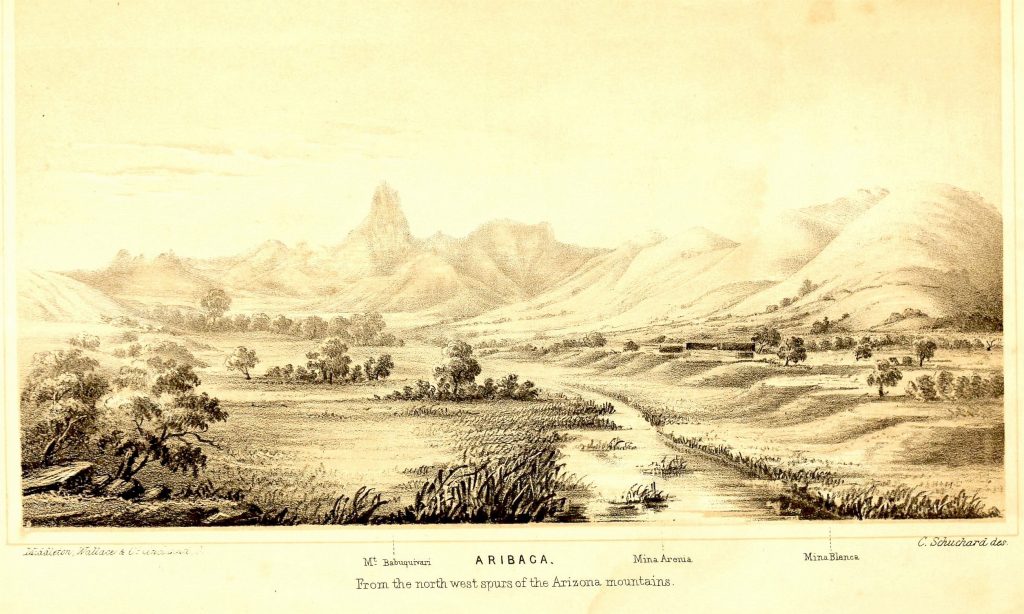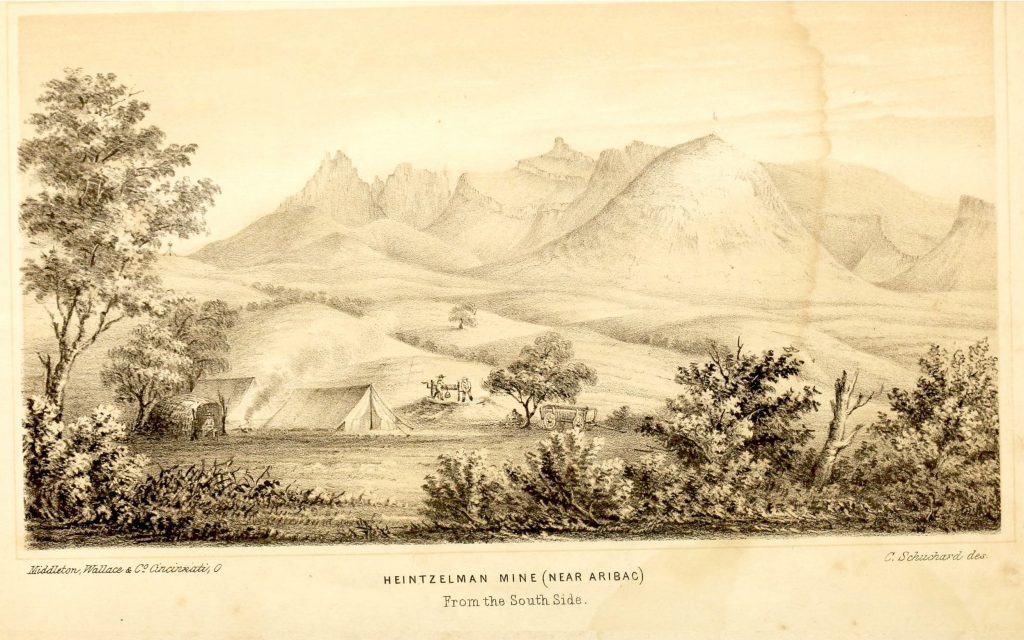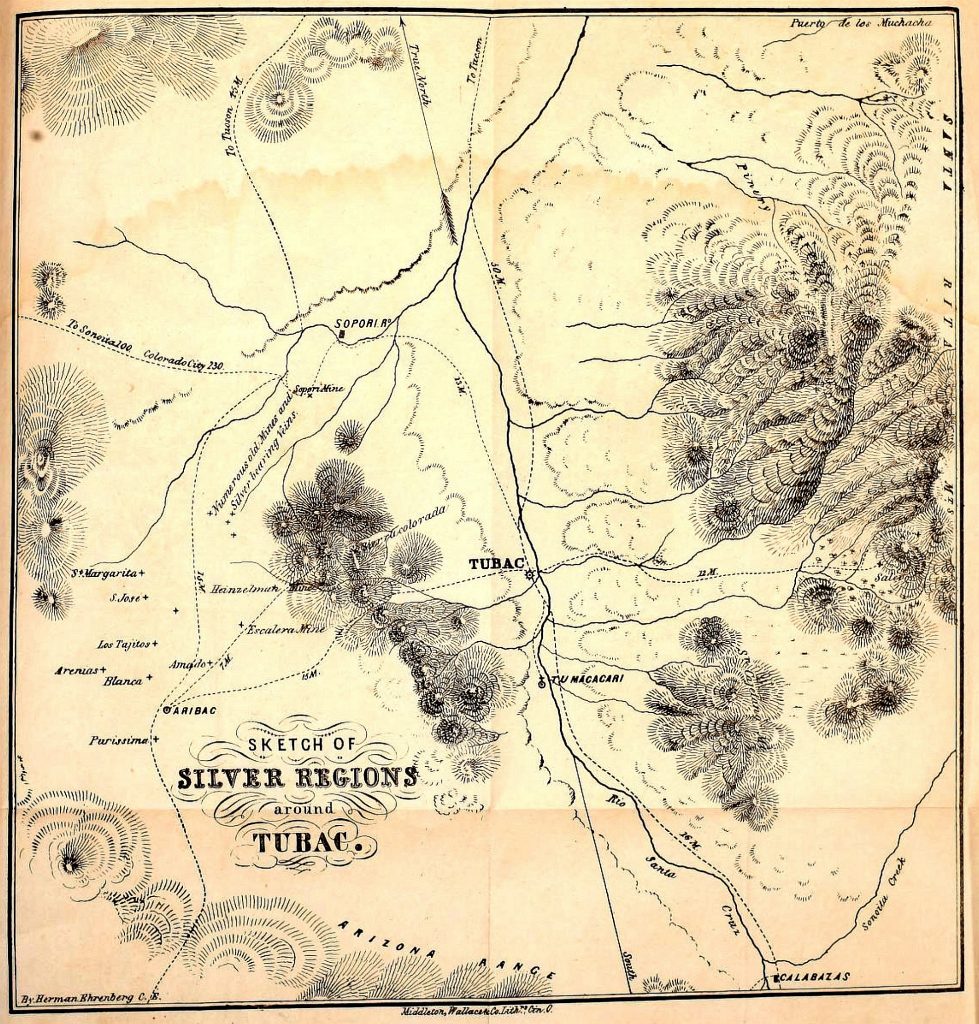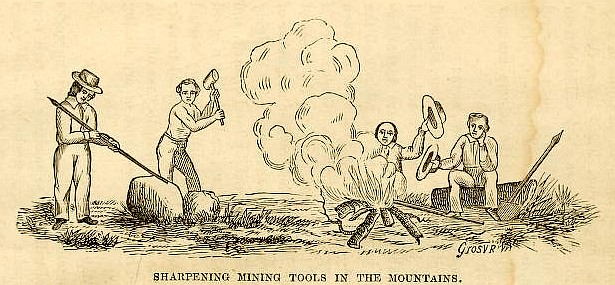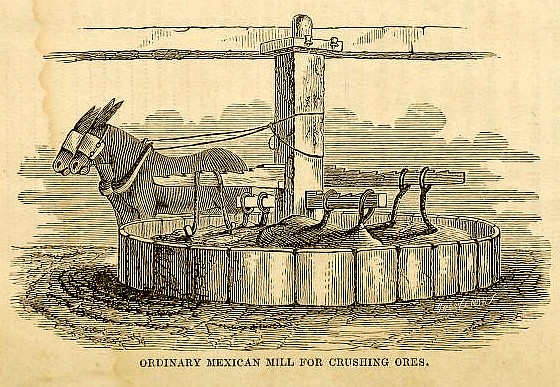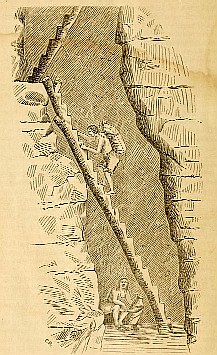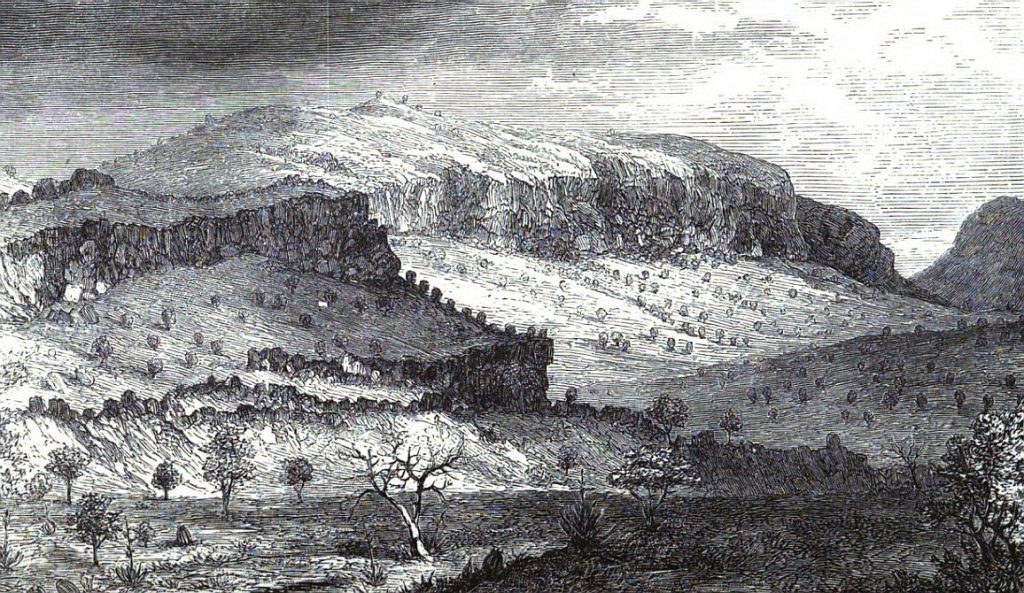 Samuel Woodworth Cozzens, free-range trust fund adventurer, affordable attorney, and pal to fugitives like Ned McGown, is a lively witness in Explorations & Adventures in Arizona & New Mexico . . . (1873; facsimile reprint, Secaucus: Castle, 1988). His homespun anthropology gets a bit ambitious, and his engravings often seem caricatures — yet both provide useful information.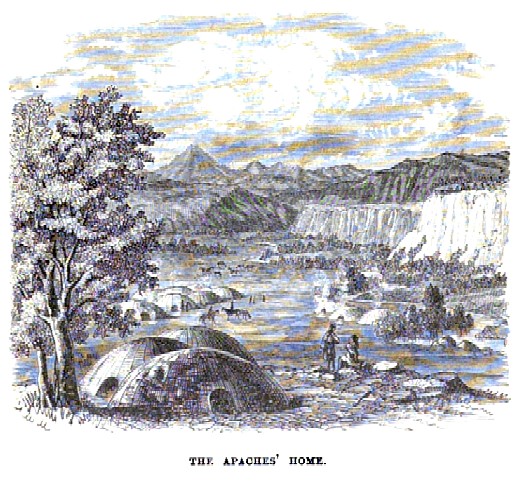 Cozzens presents this village, for example, as a permanent encampment of Mangas Coloradas.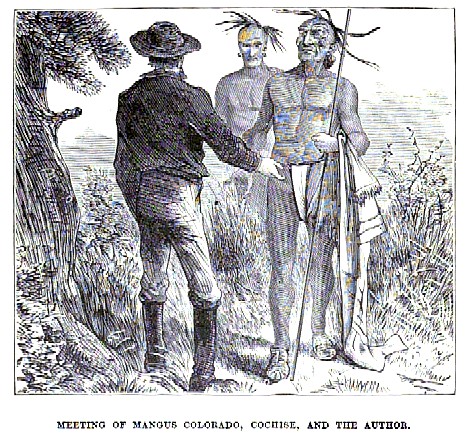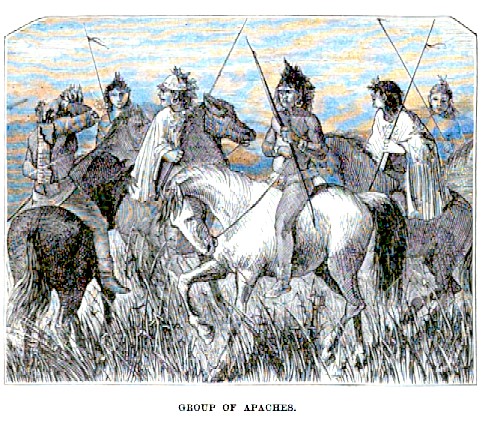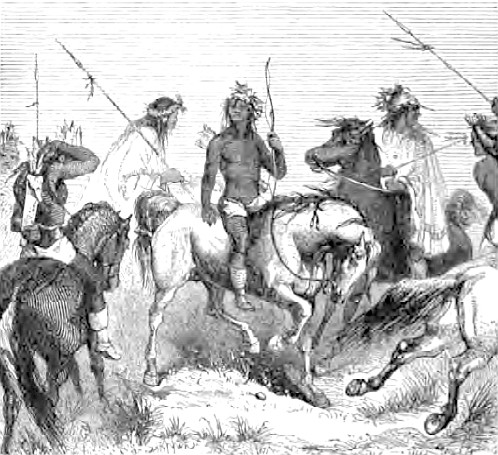 We thought this romantic tableau was familiar when we found it in Cozzens, but we could have been recalling Bartlett, where we found the same horseman reaching for his quiver and other similar figures positioned differently. Who borrowed it from whom, or are they both derived from a common source?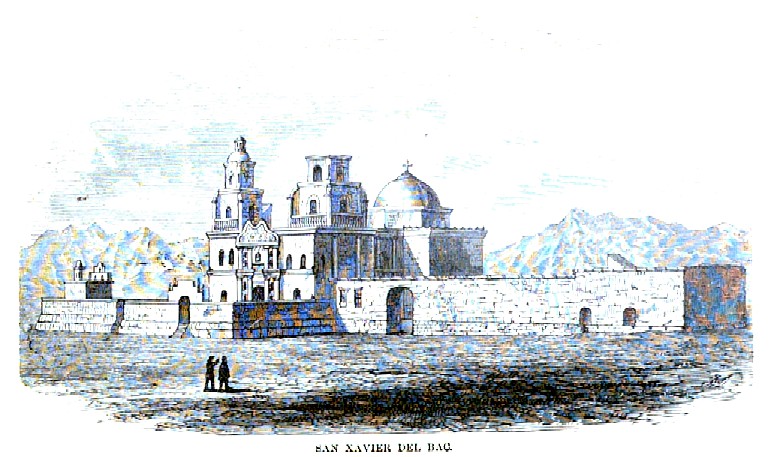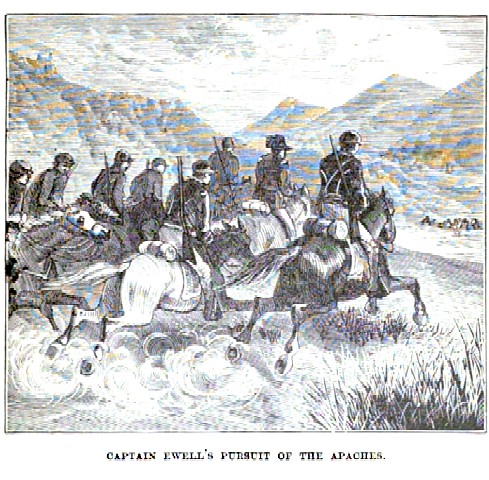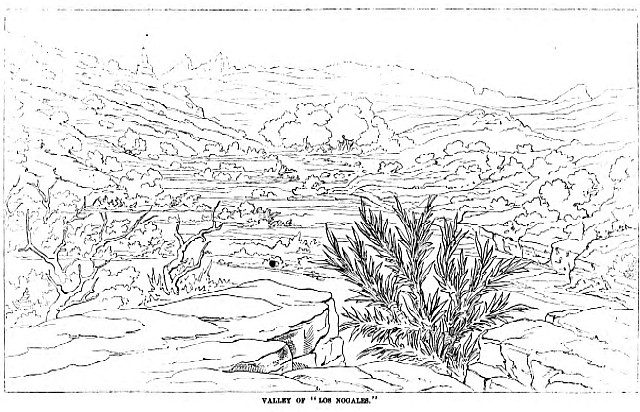 The acuity of this sketch from Emory's boundary survey suggests the use of a camera lucida. When a team of researchers looked for the site of the Seth Eastman watercolor 'Great Canyon Rio Gila', they also recounted the technology surveyors used to produce accurate field drawings, from which lithographs like 'Great Canyon' were later rendered: https://truewestmagazine.com/finding-great-canyon-gila-river/. In transforming cartoons into watercolors, artists applied rich tones like these: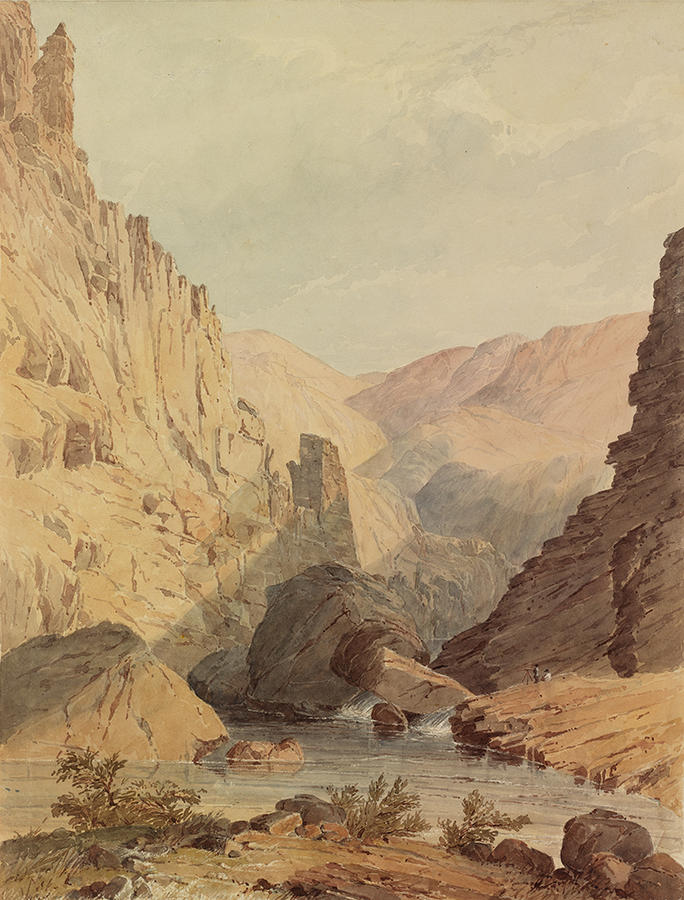 Rhode Island School of Design Museum curates an impressive collection of watercolors by military officer Eastman, who brought color, texture, and vibrance to surveyors' field drawings of the Gadsden Purchase.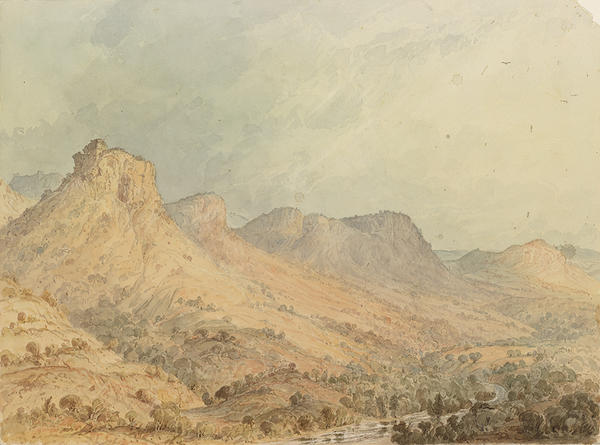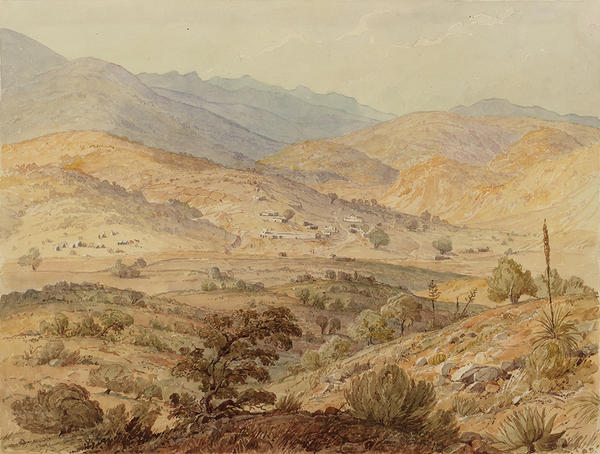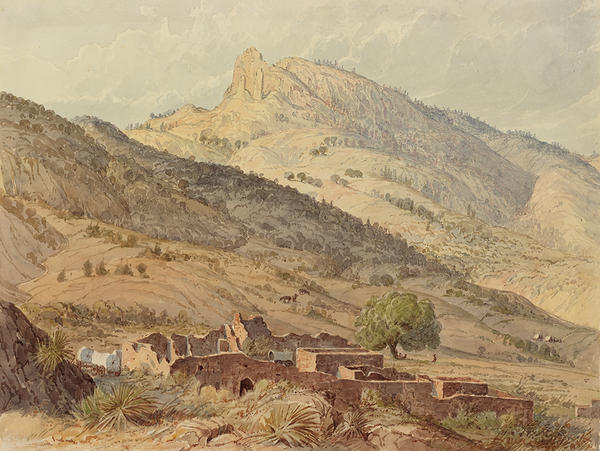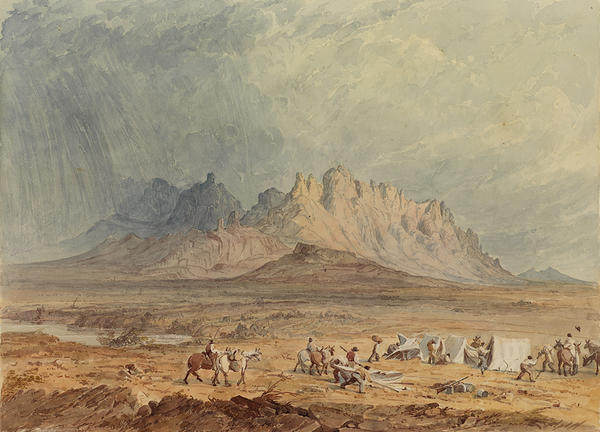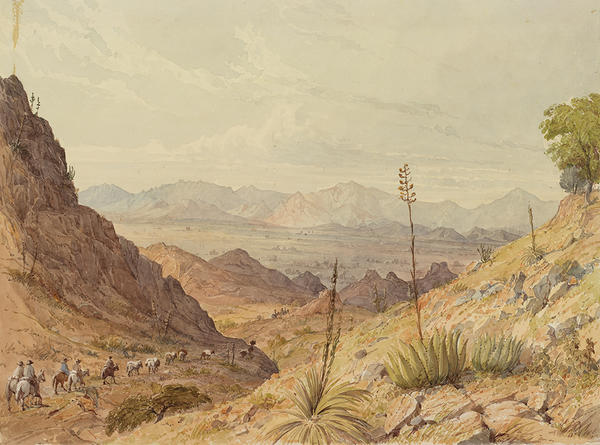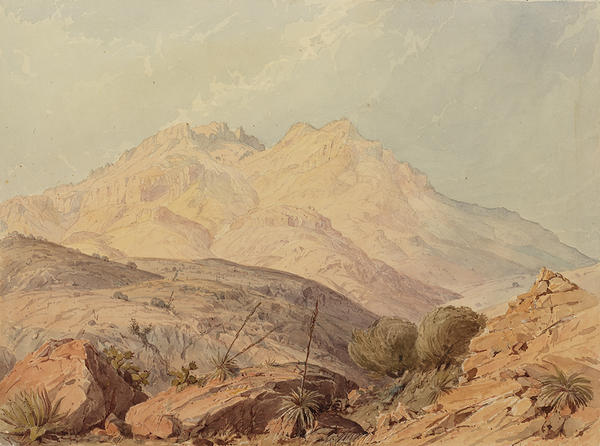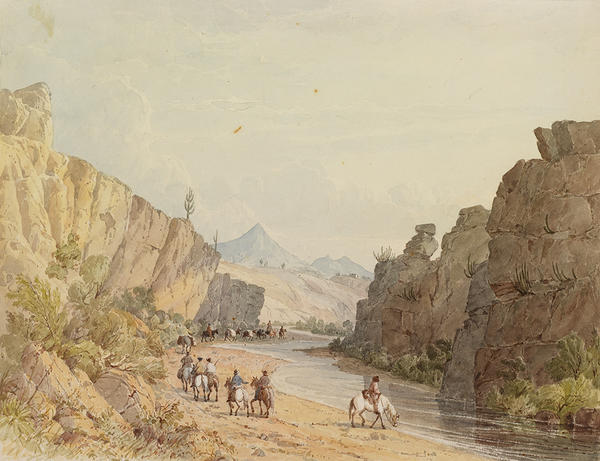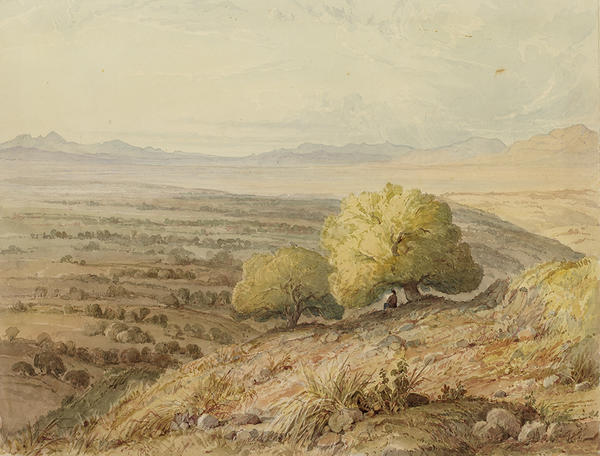 some further reading:
Megan Kate Nelson, The Three-Cornered War: The Union, the Confederacy, and Native Peoples in the Fight for the West (New York: Scribner Book Co., 2020); Joyce Appleby, Lynn Hunt, and Margaret Jacob, Telling the Truth about History (New York: W. W. Norton and Co., 1994); Keith Windschuttle, The Killing of History: How Literary Critics and Social Theorists Are Murdering Our Past (New York: The Free Press, 1997); Jason Steinhauer, History, Disrupted: How Social Media and the World Wide Web Have Changed the Past (Cham, Switzerland: Palgrave MacMillan, 2022); Andrew Pettegree and Arthur der Weduwen, The Library: a Fragile History (New York: Basic Books, 2021); Marianne Julia Strauss, ed., Temples of Books: Magnificent Libraries Around the World (New York: Gestalten, 2002); Michael Cart, ed., In the Stacks: Short Stories about Libraries and Librarians (Woodstock, New York: The Overlook Press, 2002); and Vibeke Lehmann, ed., Library Trends 59, no. 3 (winter 2011). Lehmann shows how libraries in social justice systems provide diverse, equitable, inclusive environments for the at-risk and marginalized — and access to reliably qualified data. Most patrons seem to prefer the fertile worlds of J. K. Rowling, Dan Brown, George R. R. Martin, and Ursula K. Le Guin over television's vulgar wokery and genderism.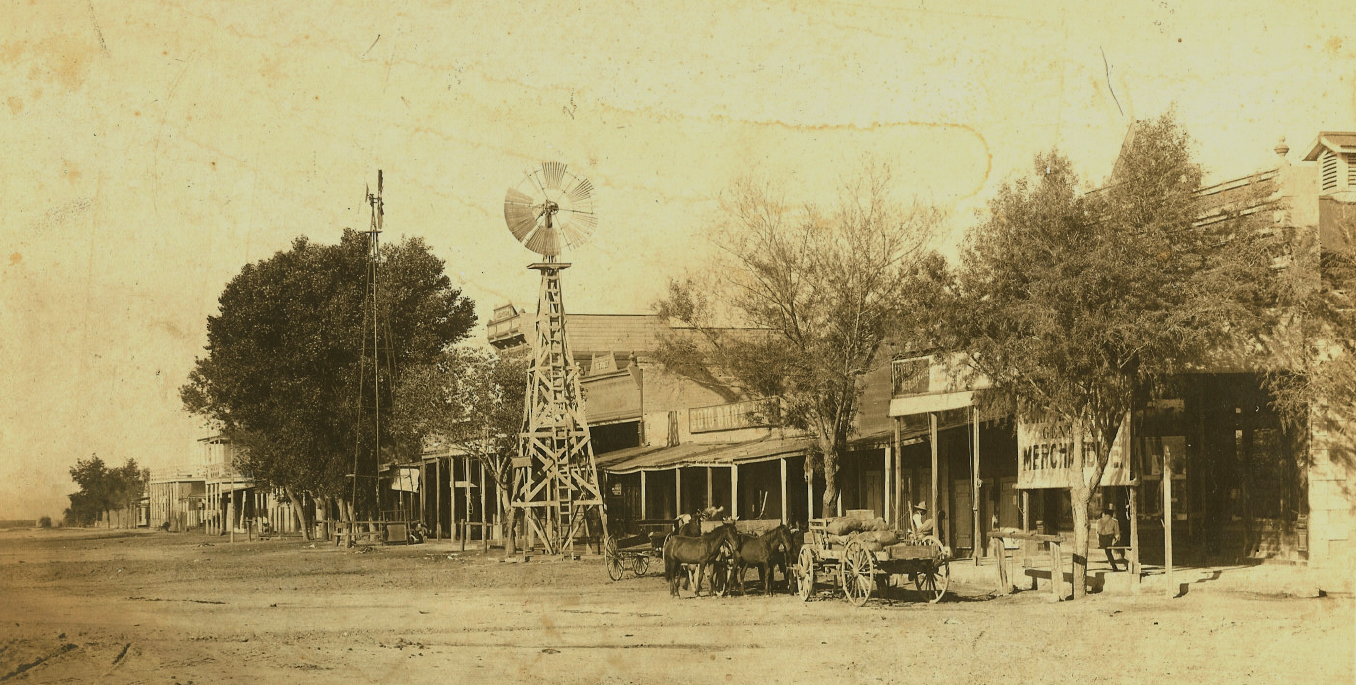 "We are not a totalitarian state; we continue to be a democracy in more than name — but a capitalist, corporate democracy. Our form of censorship rises from the nature of our institutions. Our censors are the idols of the marketplace. . . It is, of course, a very limited kind of novelty. The skirt up or down two inches; the lapel half an inch wider; the novel's dead this year but fictionalized journalism is big; in science fiction, Holocaust is out, but Environment is in. . . Genuine newness, genuine originality, is suspect. Unless it is something familiar rewarmed, or something experimental in form but clearly trivial or cynical in content, it is unsafe. It must be safe. . . Shock them, jolt them, titillate them, make them writhe and squeal — but do not make them think. . . They do not want large, durable, real, frightening things." — Ursula K. Le Guin, from "The Stalin in the Soul" (1977) in Yevgeny Zamyatin, We (1920; Bela Shayevich trans., New York: Ecco/HarperCollins Publishers, 2020), 274-75.